Released Russian physicist remains defiant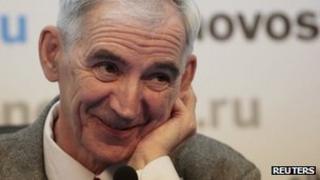 A Russian physicist convicted of spying for China has been freed after nearly a decade in prison.
Valentin Danilov, jailed for selling classified information on space technology to China, said the charges against him had been "fantasy".
Now 66, Danilov has reportedly said he intends to pursue his case with the European Court of Human Rights.
His 14-year sentence was cut by three years on grounds of good behaviour and his state of health.
"I would really appreciate it if somebody finally told me what state secret I sold," Danilov said shortly after emerging from the prison colony near the industrial Siberian city of Krasnoyarsk.
New law
He said he considered himself a political prisoner but refused to criticise the Russian president directly.
"As for President Putin, I guess everybody would be the same as him in his place. The court makes the tsar. In many cases it's the people around him that are guilty rather than he himself," he said.
Danilov, a former professor at Krasnoyarsk Technical University, has maintained that the information on satellite technology he passed on to a Chinese engineering firm was already publicly available.
Human rights campaigners saw his arrest as an attempt to intimidate academics with ties to other countries.
His release comes days after a new law comes into force broadening the definition of treason which critics fear could be used against politically inconvenient figures.
Danilov was initially arrested in 2001, acquitted in a 2003 trial but convicted in a trial the following year.
Asked about his health, the physicist said: "I'm fine. Otherwise I wouldn't be here."
Under the terms of his parole, he must contact police each month.
He is understood to plan to live with his wife in their home in the Siberian town of Novosibirsk and to return to the field of science.
"I will work in science but not space because everything [in Russia] to do with space is always [seen as] a state secret," he said.