Charity calls for sugar tax in Irish Republic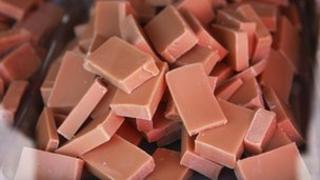 People in the Irish Republic are bracing themselves for yet another tough budget next week. But as BBC Dublin correspondent Shane Harrison reports there could be a novel tax on the way.
It's a busy morning for Brigid Harney, a dentist in south Dublin.
There is a small queue in the waiting room as she and her dental nurse inside the surgery give one of her young patients a filling.
Practising for nearly 30 years, she has noticed a big change in parents' attitudes to sweet things.
"Sugar is thought very much of as a treat, but it's given all the time as a treat," she said.
"So, usually at the end of a match or a sports blitz a sweet drink or sweets are given.
"There's generally a culture of not being able to get past sugar as a treat and trying to think of other things."
With shoppers increasingly buying unhealthy foods, the figures suggest the Irish Republic is heading towards a public health crisis.
Diabetes
One in four primary school pupils is either overweight or obese, as well as one in five teenagers and 60% of adults.
Diabetes is on the rise and there is a fear that after years of progress in reducing heart attacks and strokes, that is about to be reversed.
Because of all that, Maureen Mulvihill of the Irish Heart Foundation wants a 20% sugar tax in next week's budget.
She argues that it would shift consumption towards healthier drinks such as water and milk, particularly for children.
"It would raise revenue that government could put towards health promotion and other public health interventions to prevent obesity and reduce other cardiovascular diseases and diabetes," she added.
A sugar tax, though, is something retailers and business organisations are not particularly sweet on.
They admit there is an obesity problem, but say more needs to be done on health awareness, encouraging physical exercise and giving consumers - who have free will - more information about what they are eating.
Shane Dempsey, the head of Consumer Foods at the Irish Business and Employers Federation (IBEF), the Republic's equivalent of the Confederation of British Industry (CBI), believes that because of the recession now is not the time for a new tax.
He said: "A food tax affects health more than wealth.
"And we need to be very, very careful in the current environment about introducing a further tax that may depress consumer sentiment and which hasn't been proven to improve people's health."
Denmark introduced a fat tax last year for similar reasons.
However, it recently abandoned it because of pressure from business groups and fears about competitiveness.
The Danish ambassador to Ireland, Niels Pultz, says there was also another factor relevant to Ireland - cross-border shopping.
He said: "A lot of people go to Germany because prices are lower there.
"And there would be a big enough number of people doing so.
"Whenever there is a relative change in prices, then you can see the effect on cross-border trade."
There is, though, a big difference between the Republic's proposed sugar tax and Denmark's fat tax, which also affected protein rich foods such as meat and cheese.
And with the current Euro-Sterling rate, few would expect a massive surge in southerners going north to get soft drinks - even with Christmas approaching.
Luxuries
Nevertheless, shoppers in a busy Dublin supermarket had mixed views on the sugar tax proposal.
"I think it's stupid; people should be allowed do what they wish," one man said.
"And if you want to eat, drink and grow fat, that's your business.
"If they can pay for their luxuries to eat, they can surely pay for their medical care down the road."
Several women thought it might be a good idea if it encouraged parents to choose a healthier option.
But one young mother disagreed.
"We're paying enough on taxes," she said.
"We shouldn't have to pay more on little treats, like fizzy drinks, for the kids."
One sceptical woman told me: "I think it's a good idea in theory but I don't believe it will change consumers' behaviour in what they buy.
"I think they should go down the route of education and awareness."
So, it seems, some people are very bitter indeed about the proposed sugar tax.
On Wednesday 5 December - Budget Day - we will find out if their fears come to pass.