EU nations far apart on budget as summit rolls on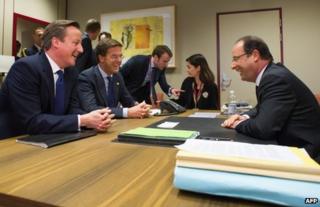 European leaders have resumed gruelling budget negotiations in Brussels amid signs a deal may be out of reach.
The talks had continued late into Thursday night.
A revised proposal from summit chairman Herman Van Rompuy keeps the spending ceiling in place but reallocates funds.
UK Prime Minister David Cameron told reporters in Brussels on Friday it was not "a time for tinkering" with the EU's 2014-2020 budget, and "unaffordable spending" should be cut.
He held talks with French President Francois Hollande and Dutch Prime Minister Mark Rutte.
German Chancellor Angela Merkel has said she doubts the summit will reach a deal and Mr Hollande has also cautioned that an agreement might not be possible.
The chances of success do not look great, the BBC's Matthew Price reports from Brussels.
While the actual sums being squabbled over are relatively small, politics is the problem, with many leaders digging their heels in for national reasons, our correspondent says.
But it is Britain with its uncompromising stance that will be blamed by many for any breakdown, he adds.
In a development which could strain relations with the European Parliament, EU leaders at the summit approved the appointment of Luxembourg's Yves Mersch to the executive board of the European Central Bank.
MEPs had blocked the appointment of Mr Mersch, the governor of Luxembourg's central bank, on the grounds that there were not enough women in the ECB's senior ranks.
"Today's decision undermines and discredits work being undertaken to make the EU's economic governance system more democratically accountable," UK MEP Sharon Bowles (Liberal Democrat), who chairs the parliament's influential economic and monetary affairs committee, said.
Slow start
On Thursday the opening of the summit was delayed for three hours because of stark differences over the budget plans.
Most EU members support an increase in the budget but several countries, mostly the big net contributors, say it is unacceptable at a time of austerity.
The biggest net contributors (those who pay in more than they get back) are: Germany, the UK, France and Italy but EU Commission data shows that in terms of per capita contributions the UK is sixth, after the Netherlands, Denmark, Sweden, Germany and Finland.
The revised plan from European Council President Van Rompuy keeps a total spending ceiling of 973bn euros (£783bn; $1.2tn).
But the cuts to cohesion spending - money for Europe's poorer regions - and to the agriculture budget would not be as deep. The cuts to cohesion would be 11bn euros less and for agriculture 7.7bn euros less.
There would be greater cuts to energy, transport, broadband and the EU's foreign service.
There would be no change in the level of administration costs - something the UK might find unacceptable.
A top aide to Mr Van Rompuy, Richard Corbett, said the adjustments reflected "the large majority view of what came out of the bilateral talks" on Thursday.
"What he put on the table was already a reduction compared with the existing budget," covering 2007-2013, he told the BBC.
He said a deal "could still be put together, but there is a lot of detail to be gone through".
Veto warning
The EU Commission, which drafts EU laws, had originally called for a budget of 1.025tn euros - a position supported by the European Parliament and many countries which are net beneficiaries, including Poland, Hungary and Spain.
The UK is the most vocal of EU member states seeking cuts in the budget to match austerity programmes at home.
Mr Cameron has warned he may use his veto if other EU countries call for any rise in EU spending and the Netherlands and Sweden back his call for a freeze in spending, allowing for inflation.
Poland and its former-communist neighbours, which rely heavily on EU cash, want current spending maintained or raised.
Mr Hollande has also called for subsidies for farming and development programmes to be sustained for poorer nations. France has traditionally been a big beneficiary of EU farm support.
Failure to agree on the budget by the end of next year would mean rolling over the 2013 budget into 2014 on a month-by-month basis, putting some long-term projects at risk.
Analysts say that could leave the UK in a worse position, because the 2013 budget is bigger than the preceding years of the 2007-2013 multi-year budget.
The UK government could then end up with an EU budget higher than what it says it will accept now.