Cocaine ring 'planned assassinations' - Dutch police say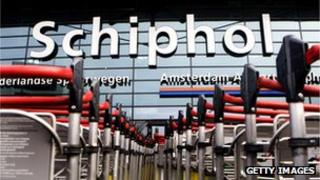 Dutch police have arrested 12 people in one of the country's biggest drug stings in recent years, officials said.
The suspects, who include citizens from the US, Cape Verde and the Dutch Antilles, are accused of smuggling cocaine from the Caribbean via Amsterdam's Schiphol airport.
The gang also "planned to carry out assassinations," a police spokesman said without elaborating.
The arrests were part of countrywide raids involving more than 200 officers.
Agents raided homes and businesses in the joint operation led by Dutch police as well as customs and tax officials.
They confiscated quantities of cocaine and weapons, police spokesman Robert Van Kapel said.
The international criminal network had used Schiphol airport to smuggle the drugs, he added.
"It was one of the biggest actions against drug gangs in recent years," Mr Kapel said.
The cocaine is thought to have been smuggled by couriers swallowing the drugs, or by hiding it in freight containers, the BBC's Anna Holligan in The Hague reports.
Earlier this month, police arrested another 20 suspected cocaine smugglers at Schiphol, the AFP news agency reports.
In March, airport authorities confiscated 300 kilos (660 pounds) of cocaine from South and Central America with an estimated street value of 12m euros (£9.6m).