US 'launched Flame cyber attack on Sarkozy's office'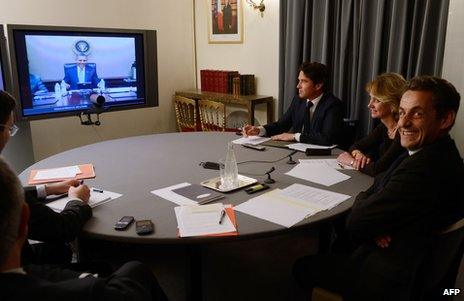 A French news magazine has accused the US government of hacking into the office of Nicolas Sarkozy in the final weeks of his presidency of France.
L'Express said a cyber war agency whose job it is to detect and prevent hacking had found a "powerful worm" in the computers of the Elysee Palace.
The palace has since confirmed a big cyber attack did take place.
The US embassy in Paris "categorically denied" the US had been involved in any cyber attack on the French government.
US Secretary of Homeland Security Janet Napolitano, for her part, refused to confirm or deny the allegation, telling L'Express the US had no more important partner nor greater ally than France.
The malware the French authorities are said to have discovered is called Flame.
Hugely sophisticated, it can collect files on a machine, take screen shots, and even activate the microphone on a computer to record conversations.
According to L'Express, even the computer of Mr Sarkozy's chief of staff, Xavier Musca, was hacked.
The worm was probably introduced to the Elysee network through Facebook, L'Express says.
It was found in the system shortly after the second round vote of the presidential election on 6 May, and it took agents three days to clean it out, L'Express reports.
In May, Russian security firm Kaspersky Labs told BBC News it believed that Flame had been in operation since August 2010, collecting data in countries like Israel and Iran.
The company said it believed the malware was state-sponsored but it could not be sure of its exact origins.
Previously, targeted malware such as Stuxnet was used against nuclear infrastructure in Iran.
Related Internet Links
The BBC is not responsible for the content of external sites.