Meeting your next-door immigrant in the EU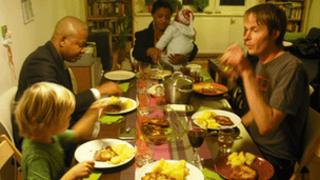 Hundreds of families sat down to lunch across Europe last Sunday, joined not by their usual friends or relatives, but by strangers from foreign lands.
In a small, cosy flat in the rather drab Prague suburb of Strasnice, two families were getting to know each other.
They already had quite a lot in common. Both couples were in their early 30s. Both men worked in IT. Both women were at home raising two young children.
There the similarities ended. Jiri is from Prague and his partner Leona originally from Moravia. Kenneth, however, is from Lagos, and his wife, too, is Nigerian. This lunch - in Jiri and Leona's flat - was the first time the two couples had laid eyes upon each other.
They were taking part in a project to improve the integration of foreigners in the EU. An annual occasion, it has spread across Europe since it began life in the Czech Republic.
Last weekend, 420 families sat down with immigrants or foreigners - people they had never met before.
"I wouldn't say Czechs are unfriendly, but cold - yes," Kenneth told me, when I asked whether he thought the Czech reputation of being hostile to foreigners was justified. He had been here eight years, so was in some position to judge.
"They are really friendly, if you get to know them or get close to them. But the thing is, initiating that process at times is a bit difficult."
Meeting foreigners
The Next Door Family project is all about kick-starting that initiation.
At 13:00 on a Sunday in November each year, families sit down to lunch with total strangers.
A Czech family serves goulash and dumplings to Chechen immigrants. A Chinese immigrant family serves very different dumplings to a family of Czechs. And here in Jiri and Leona's modest apartment, a Nigerian family sits down to wiener schnitzel and potatoes.
"Every time I go abroad, I get energised, I speak to people," said Leona, trying to sum up her countrymen's difficulty in opening up to strangers.
"And when I come back here, I start doing that, I start speaking to people in the streets. And they stop and look at me like I'm doing something wrong.
"I have to say I'm not so closed. I would describe myself as an open person. [Jiri and I] travelled in Africa, in Asia, many times and we enjoyed the differences, we liked them."
"And I have to say I miss this about the Czech Republic," Leona went on, explaining why she and Jiri had ended up inviting a random Nigerian couple to lunch.
"We have children now, so it's difficult for us to travel to exotic countries," Jiri added.
"So this project is a simple way to meet foreigners," he said, as his five-year-old son Vojta overcame his shyness to ask Kenneth about Nigerian food.
Filling the silences
There are some half a million foreigners living in the Czech Republic according to the most recent census - 5% of the country's 10.2 million inhabitants. In Prague, the number rises to 15%, chiefly Ukrainians, Vietnamese and Russians.
But while open hostility or violence towards foreigners is rare, Czech society is far from a multicultural melting pot - many communities live in virtual isolation.
The Next Door Family project was launched by Czech NGO Slovo 21 in 2004, as a response to the Czech authorities' hit-and-miss attempts to integrate foreigners.
Families who register are matched up with those of similar age, interests and background; an assistant accompanies them to lunch, to translate, smooth over cultural differences - and presumably avoid those embarrassing silences.
This year the idea has gone beyond Czech borders.
Seven more countries - Slovakia, Hungary, Italy, Belgium, Portugal, Spain and Malta - are taking part, in a project that has won the support of the European Union.
Slovo 21 says approximately 1,000 families in the Czech Republic have sat down to lunch since 2004, and around 60% stay in touch afterwards. Many, says the organisation, become firm friends.