The Pope publishes final instalment of life of Jesus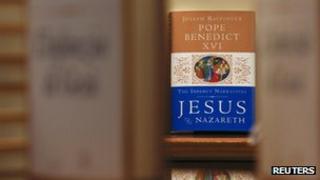 The third and final instalment of Pope Benedict's biography of Jesus is published on Wednesday.
One million copies of the book, Jesus of Nazereth: The Infancy Narratives, have been printed in eight languages.
It analyses the gospel narratives from the birth of Jesus to his presentation in the temple at the age of 12.
The book is signed "Joseph Ratzinger Benedict XVI", meaning that it is an academic work, rather than papal dogma that cannot be contradicted.
Pope Benedict reaffirms the importance of the Christian belief in the virgin birth, that Jesus was not conceived through sexual intercourse but through the Holy Spirit.
He argues that it, together with the resurrection, are "cornerstones of faith" because they demonstrate God's power over matter.
But he debunks several Christmas traditions, including the year of Jesus' birth, which the Pope argues was miscalculated by a monk.
Another sacred cow he tackles is the presence of animals at the birth in a stable in Bethlehem.
He argues there is no evidence in the Gospel for that, but says images of oxen and donkeys have become such a staple part of the Nativity that they are now accepted.
The Vatican spokesman, Father Federico Lombardi, said Pope Benedict had devoted "all his free time to bring to fruition this project, which he wanted and loved".
In the coming months, the book will be translated into 20 languages and sold in 72 countries around the world.