Former Kosovo rebel leader Fatmir Limaj faces retrial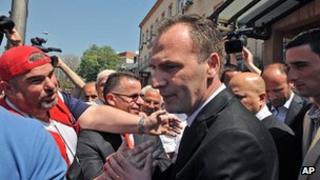 Kosovo's supreme court has ordered the retrial of an ex-guerrilla commander, now a top politician, for war crimes.
The case against Fatmir Limaj and three other members of the Kosovo Liberation Army collapsed in May after key witness Agim Zogaj died in an apparent suicide.
The court's ruling at the time, that Mr Zogaj's evidence was inadmissible, was overturned by the supreme court.
Mr Limaj, an ethnic Albanian, is deputy president of Kosovo PM Hashim Thaci's ruling Democractic Party of Kosovo.
He and his co-defendants are accused of torturing and killing Serbian detainees at a prison in the southern Kosovo village of Klecka in 1999.
Their trial in May was due to hear testimony from fellow KLA fighter Agim Zogaj, who had been a guard at the prison.
But Mr Zogaj, who had been sent to Germany under a witness protection scheme, was found hanging from a tree in a park in September 2011 in what the authorities said was a suicide.
'Clean fight'
The supreme court, in Kosovo's capital Pristina, said on Tuesday it had "annulled the verdict of the first instance".
"The panel also ruled that the evidence of Agim Zogaj, also known as Witness X, is admissible," the EU rule of law mission in Kosovo (Eulex), which made up three of the five judges, said.
Mr Limaj had said at the time of his acquittal in May that it showed the 1999 war was "a just and clean fight".
But there was an angry reaction from the Serbian capital Belgrade, with the war crimes prosecutor questioning "whether anybody in Kosovo will ever be convicted for crimes committed against Serbs".
In 2005, a UN tribunal also acquitted Mr Limaj of war crimes charges.
Kosovo's ethnic Albanian majority fought an insurgency against Serb forces in the late 1990s, in which more than 10,000 people were killed and hundreds of thousands driven from their homes.
Nato bombed Serb positions to halt the mass ethnic cleansing and, in June 1999, Kosovo was placed under UN administration.
Kosovo formally declared independence from Serbia in 2008, a move that was not welcomed by Belgrade. The international community is split over recognition.