France economy: Francois Hollande does business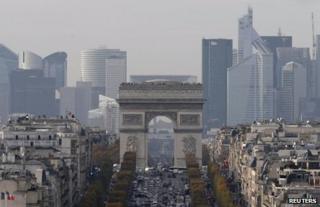 Has France's Socialist President, Francois Hollande, just carried out an economic U-turn by reaching out to big business?
The question is the talking-point of Paris since the government announced its "competitiveness pact" a week ago.
A response to growing concerns about the decline of France's industrial base, the pact's main measure is a 20bn-euro (£16bn; $26bn) tax credit to the corporate sector.
The government calculates it will take 6% off the cost of labour and lead to 300,000 new jobs.
The announcement took the corporate world pleasantly by surprise.
Business leaders had been primed to believe the Socialists incapable of this kind of supply-side reform.
It also completely wrong-footed the right-wing opposition (who now, following their disputed leadership election, have problems all of their own).
But even more noteworthy than the gesture to business were the methods chosen to pay for it - an increase in VAT (sales tax) and cuts in state spending.
Both are highly controversial on the political left.
Economic taboo
The president himself is naturally loath to speak of a change of economic direction.
Questioned by journalists at a press conference in the Elysee palace, he repeatedly denied any U-turn - but elsewhere, there is a different consensus.
Whether they approve it or deplore it, observers of left and right concur that the pact represents a key economic moment: a clear break for Mr Hollande from the actions of his first six months.
For Patrick Artus, chief economist at the investment bank Natixis, the president's announcement is a break not just with his own past but with 40 years of modern French history.
"You have to remember how unusual it is for a French government to take a step like this, clearly shifting the burden of taxation away from the corporate sector and on to the consumer," he says.
"Since the oil shocks of the 1970s the constant policy of all French governments has been to help the consumer - help him buy a car, his home, electricity. It meant lowering VAT and putting up social charges.
"So this emphasis on less wages and higher corporate profits is brand new. It may be commonplace in Britain or Germany but not in France. Even [former French President Nicolas] Sarkozy never dared to do that."
The corporate sector finds itself in the unusual situation of applauding a government for which, until very recently, it had nothing but criticism.
'Message received'
While the business federation Medef had been pushing for 30bn euros in aid (as opposed to 20bn) and for direct cuts in payroll charges (as opposed to a tax credit on profits), it was impossible not to acknowledge the pact as a major move to allay their anxieties.
"There is an awful lot that makes French industry uncompetitive," says Pierre Vauterin, managing director of CBA, which makes mechanical parts for the aircraft industry outside Paris.
"First there is the cost of labour. Then there is the huge mass of regulation - the labour code is 3,000 pages long! This means we spent half of every day working out how to avoid going to jail from some breach of workers' rights.
"But for the first time since this government took over six months ago, we have at last heard something which suggests they understand how important business is to creating wealth in this country.
"We had heard a rather different song up until now."
Many are comparing the moment to similar shifts by left-wing French governments in the past.
Most famously there was the liberal turnabout by Francois Mitterrand in 1983, after two years of nationalisations and currency control.
Perhaps more similar is the government of Lionel Jospin from 1997 to 2002, which began with the 35-hour week and ended with the pro-business Finance Minister, Dominique Strauss-Kahn.
'Social democrats'
President Hollande came to power on the back of some strong left-wing rhetoric. Having promised to wage war on "finance", he began his rule by pushing up corporate taxes, bringing down to 60 the retirement age for many workers, and axing a planned VAT increase by his predecessor, Mr Sarkozy.
But now there is an unmistakeable shift away from the left to what the broadly pro-Hollande Le Monde newspaper calls a "social democratic vision".
Suddenly the president is talking of the high cost of French labour as a major problem, of the 57% of GDP spent by the state as excessive and wasteful, and of of the loss of sovereignty caused by hyper-debt.
There are many on the left of his own Socialist Party - and of course among the Communists, Greens and Party of the Left - who believe the new thinking is a betrayal.
They believe the government is pursuing a policy of austerity without daring to say so, and that this is the worst possible solution when European economies are faltering and poverty growing.
On the right, meanwhile - and in business - there are many who applaud the president's apparent change of direction but fear he lacks the will to see it to a conclusion.
Bringing down labour costs certainly solves part of the problem, they argue, but what of the deeper issues? Like making the labour market more flexible?
Likewise, promising cuts in state spending is all well and good but what cuts? How much? And will France really stand the pain?
In the last few days, there has been more pressure on the president.
First, the Economist magazine ran a much-publicised supplement warning of a "time bomb" unless France reformed fast, and now Moody's has downgraded French debt from its triple-A rating, citing the country's lack of growth and loss of competitiveness.
The government does not dispute the urgency but says the attacks are already out of date, that change is on its way.