Profile: Jean-Francois Cope, leader of France's UMP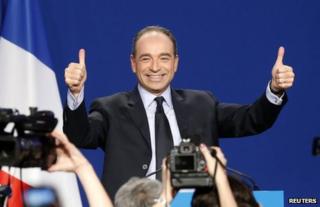 Jean-Francois Cope (pronounced "cope-ay"), the man who snatched victory in the leadership contest for France's conservative UMP party, has been a strong ally of Nicolas Sarkozy.
If anything, he sits further to the right of the former president, particularly on immigration.
His victory by the narrowest of margins - just 98 votes out of almost 175,000 cast by party members - suggests the party is evenly split. The favourite to win before the vote was Mr Cope's more moderate rival, former Prime Minister Francois Fillon.
Mindful of the French right's history of divisions, the UMP's new president will have his work cut out to rally the party around himself.
Before the contest, he indicated that he did not regard the party leadership as an automatic stepping-stone to a presidential bid in 2017, when Mr Sarkozy would be eligible to run again for France's top job.
However, given Mr Cope's driven nature and his comparative youth - at 48 he is nearly 10 years younger than Mr Sarkozy - a candidacy of his own cannot be ruled out.
In a tweet after his victory, he appeared to distance himself slightly from his political ally by saying he was both loyal to Mr Sarkozy and to former President Jacques Chirac, whose antipathy towards Mr Sarkozy is well-known.
Elite schooling
"You're lucky, you're at the wedding of the future president," Mr Cope told guests at his first wedding in 1991.
That marriage ended in divorce 16 years later but his ambitions have never faltered, France's AFP news agency notes in its profile of the new UMP leader.
Much of his early life echoes that of Mr Sarkozy: he was born in Paris (on 5 May 1964), the descendant of recent immigrants with Jewish ancestry.
His Jewish grandfather had fled Romania in the 1920s to avoid anti-Semitic persecution and his father had become a doctor.
His mother was of Jewish-Algerian descent, and in later life Mr Cope would describe himself as a "non-practising Jew".
After attending top schools in Paris, he passed through the Ecole Nationale d'Administration (ENA), the graduate school for generations of senior French officials.
His first jobs were at state-run financial institutions and he taught at university while pursuing a political career with the conservatives.
Having backed Mr Chirac in the 1995 presidential election, he was elected that year both mayor and National Assembly deputy for the town of Meaux, near Paris.
Several government posts followed, including junior budget and junior interior ministers, and he served as government spokesman from 2002 to 2007.
According to AFP, he was sidelined to some degree when Mr Sarkozy took office in 2007 but made good use of a largely symbolic post - head of the UMP's parliamentary delegation - to raise his profile.
On the assumption that Mr Sarkozy would, like most of his predecessors, serve two terms in office, Mr Cope made no secret that year that he might aim for the presidency himself in 2017.
'FNUMP'
A major break came for Mr Cope in 2010 when he became the UMP's secretary-general.
Correspondents say he sought to move the party to the right to wrest back votes from the extreme-right National Front (FN).
In April 2011, he launched a controversial public debate on the practice of Islam in secular France, saying many French people were concerned by the "failures of integration".
Mr Fillon pointedly stayed out of the debate, warning that it risked "stigmatising Muslims".
In the campaign for the UMP leadership, Mr Cope advocated an "uninhibited right".
Warning of "anti-white racism" in France, he caused controversy by tweeting an anecdote about a child who had been robbed of his pain au chocolat pastry by "thugs" who, Mr Cope claimed, were enforcing the Ramadan fast.
After his opponent's victory, Mr Fillon warned of a deepening split in the party which he described as a "political and moral fracture".
In a measure of the gravity of the ill-feeling within the party, some members took to social media to promise they would throw away their membership cards.
As left-wing bloggers mocked Mr Cope's victory, dubbing the party under his leadership the "FNUMP", Mr Cope said he had telephoned Mr Fillon to ask for his support.
The new UMP leader insisted reconciliation within the party would be "easy and natural", according to the centre-right newspaper Le Figaro.
"You have to know how to forget in politics," he said.