Polish man 'planned to blow up parliament'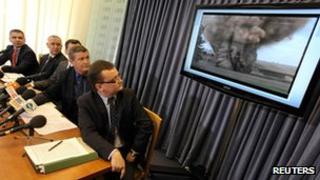 Polish prosecutors say they have foiled a planned terror attack against the president, cabinet ministers and MPs.
A 45-year-old academic researcher has been arrested on suspicion of planning to detonate four tonnes of explosives in a vehicle at the parliament building during a budget debate, they say.
He has been charged with planning a terrorist attack and faces up to five years in prison if convicted.
Two other men were arrested for possessing illegal firearms.
The Polish citizen who has been arrested is accused of assembling a small arsenal of explosive material, weapons and remote-controlled detonators, and attempting to recruit others to his cause, says the BBC's Adam Easton in Warsaw.
The suspect, who has not been identified by name, was building bombs himself and also had detonators, said prosecutor Mariusz Krason.
He has confessed in part to the charges against him, including planning an assassination of the state leaders, Mr Krason added.
Breivik 'fascination'
The officials broadcast videos allegedly taken from the suspect's home, which they said showed test explosions he had carried out.
They said the man, an explosives expert who worked at Krakow's Agricultural University, did not belong to any political group.
The man's motives were described however as "nationalistic, xenophobic and anti-Semitic" in character.
He is described by Polish officials as having been inspired by Anders Behring Breivik, who killed 77 people in Norway last year, most of them teenagers at a Labour Party youth camp.
"This potential would-be attacker did not hide his fascination" for Breivik, Polish Prime Minister Donald Tusk told a news conference.
Mr Tusk said that Polish investigators had been helped by information gained while probing Breivik's contacts in Poland, where he is thought to have bought small amounts of chemicals.