Dutch Prince Johan Friso shows 'minimal consciousness'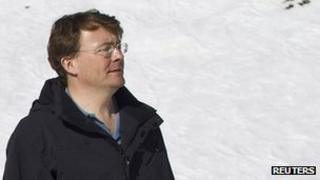 Dutch Prince Johan Friso, who has been in a coma since being struck by an avalanche in March, is showing signs of "minimal consciousness", officials say.
The Dutch royal house says that "the prognosis, however, remains very uncertain and the medical team is still very concerned".
Prince Friso, aged 44, was buried under snow for about 15 minutes before being rescued in Austria in March. He had been skiing off piste.
He is the second son of Queen Beatrix.
However, he is not in line for the throne since marrying in 2004 without the government's permission.
In a statement, the Dutch royal house said that "it will take many months before there is more clarity" about the prince's chances of recovery.
It gave no further details, but urged the media "to continue to respect the privacy of the family".
The prince's wife, Mabel, also thanked the public for messages of support during "the worst period of my life".
Heart attack
In March, Prince Friso was skiing off the marked pistes at the Lech resort when the avalanche struck.
He was buried by an avalanche reportedly measuring about 30m (yards) wide by 40m long.
A beeper he was wearing allowed rescuers to locate him quickly. No-one else was hurt.
MRI scans later revealed that his brain had suffered "massive damage".
Medics said Prince Friso had been deprived of oxygen owing to the amount of time spent under the snow. This resulted in a heart attack.
The Dutch royal family regularly spends skiing holidays in Lech, in the western Vorarlberg province of Austria.