French papers unimpressed by UMP leadership "chaos"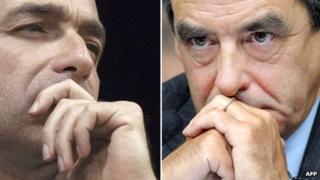 French papers warn of a crisis in the conservative opposition Union for a Popular Movement (UMP) after a "grotesque" leadership contest failed to produce a clear winner amid claims of vote-rigging.
Many suggest that the party's former President Nicolas Sarkozy stands to benefit from the uncertain outcome.
'Sorry spectacle'
"Open crisis in the UMP", says a front-page headline in the centre-right Figaro after Jean-Francois Cope and former Prime Minister Francois Fillon both claimed victory. Headlines in the regional press include "Big shambles" (L'Est Republicain), "What chaos!" (Var-Matin) and "Cope-Fillon: Cacophony" (Sud Ouest).
Judith Waintraub in Le Figaro notes that this was the party's first leadership contest to be decided by a vote among party members. "Organisational problems and suspicions of fraud have marred the UMP's democratic venture," she says.
Some commentators in the regional press are more severe.
"Totally surrealist and grotesque!" says Jacques Camus in La Republique du Centre, while Bruno Dive in Sud Ouest says a party that aspires to govern the country has "rarely presented such a sorry spectacle as the UMP yesterday".
Herve Cannet in La Nouvelle Republique says the party "now seems to be split in two". "With such an unimaginable scenario, which is disastrous for the image it projects of the biggest opposition party, it is difficult to see... how the UMP can bounce back," he says.
Good news for Sarkozy?
A cartoon published on the website of centre-left Le Monde sees Mr Sarkozy as the real winner, followed by Socialist President Francois Hollande.
The cartoon shows Mr Fillon and Mr Cope wide-eyed with surprise as they read out a statement to the press, saying: "The big winner of the evening is... what?!... Nicolas Sarkozy... just ahead of Francois Hollande."
Several commentators in the regional press agree.
"Quite obviously, the confusion which has set in will only increase 'Sarkozy nostalgia'," says Jacques Camus in La Republique du Centre.
"Nobody doubts that many on the right will ask the former president to come to the rescue one day, in the absence of an undisputed leader," he says.
Jean-Michel Servant in the Midi Libre daily says the uncertain outcome of the vote "might well lead to the explosion of the UMP - or hasten the return to business of a certain Nicolas Sarkozy".
And Bruno Dive in Sud Ouest believes that "in his wildest dreams, the former president did no doubt not imagine a scenario as favourable as this to his possible return".
BBC Monitoring reports and analyses news from TV, radio, web and print media around the world. For more reports from BBC Monitoring, click here.