Savita Halappanavar - Irish embassy protest over death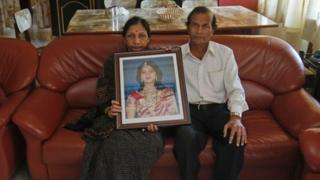 Protesters have held a demonstration outside the Irish embassy in Delhi over the death of a pregnant woman at a hospital in Ireland.
Savita Halappanavar, 31, died in Galway on 28 October.
Her family said she asked for her pregnancy to be terminated because she was miscarrying and had severe pain.
Her husband alleged doctors refused as there was a foetal heartbeat and because Ireland "is a Catholic country".
Mrs Halappanavar, a dentist originally from India, was 17 weeks pregnant when she died at University Hospital Galway.
Indian politicians and sections of the country's media have been scathing in their condemnation of Ireland's handling of the case and are calling for Delhi to act.
According to the AFP news agency, about a hundred protesters demonstrated outside Ireland's embassy in the city on Friday.
Local police prevented the crowd from getting close to the Irish compound.
In Dublin, Indian ambassador Debashish Chakravarti met officials in the Department of Foreign Affairs.
He was to seek assurances an "independent" and "transparent" investigation would be carried out, according to a foreign ministry spokesman.
The envoy would also convey the "concern growing in India" over Mrs Halappanavar's death.
The Irish embassy in Delhi issued a statement to local media expressing its "profound condolences".
"The Irish government, at the highest level, is committed to establishing the full circumstances and facts surrounding Mrs Halappanavar's tragic death," it said.
'Human loss'
Smriti Irani, the president of the women's wing of India's main opposition party, took part in the embassy protest.
Ambassador Feilim McLaughlin met Mrs Irani and three other protesters inside the compound.
"The Irish ambassador assured us that there could be a possibility of inviting international experts to be part of the investigation and we told him that Savita's husband should also be part of it," she said.
"The ambassador acknowledged that there is intense pressure not only from the people of India but globally over Halappanavar's death."
India's Minister of External Affairs, Salman Khurshid, called the circumstances of Mrs Halappanavar 's death "extremely sad and unfortunate".
"Whatever the inquiry does, human loss cannot be compensated," he said.
The leader of the Indian Communist Party, Brinda Karat, joined the growing calls for Delhi to take tough line with Dublin and said Mrs Halappanavar's condition should have been treated as a "medical emergency".
Two inquiries into the death are under way - one by the Galway-Roscommon University Hospitals Group, due to report in three months, and a second Health Service Executive (HSE) investigation involving an independent expert in obstetrics and gynaecology from Northern Ireland.
A coroner's report will also be handed over to the Irish government.
Dr James Reilly, the Republic's health minister, expressed his sympathy to the family and said they were "entitled to know as quickly as possible what the facts of the situation were".
"I don't want to see either of the investigations delay one minute longer than they have to and leave this family in doubt as to what really happened," he said.
Junior minister Brian Hayes said he accepted that Ireland had suffered damage to its reputation as a result of Mrs Halappanavar's death.
The country has had strict laws on abortion for more than 100 years.
The country's constitution has been amended to allow for an abortion when a woman's life is at risk - but the issue is seen as remaining a very complex area of law.