Milan cathedral puts spires up for adoption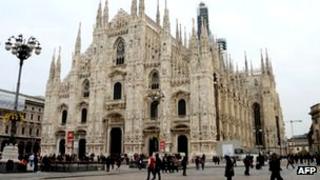 Milan's main cathedral has put its 135 spires up for adoption as it seeks to raise funds for renovations.
Donors who contribute 100,000 euros (£80,000) to the Gothic building will have their names engraved on a spire.
An official at the cathedral's maintenance body told the BBC that some spires were fragile and could crumble. So far eight have been adopted.
The campaign has been introduced to make good a shortfall caused by cuts to the Italian culture budget.
The Milan Duomo management said it wanted "to encourage the Milanese and citizens of the world as a whole to be protagonists in the history of the cathedral, a priceless treasure that belongs to all of humanity".
It is seeking to raise 25m euros (£20m) for essential maintenance to the spires.
Milan's Duomo is the fourth-largest cathedral in the world, and took six centuries to build.
Construction was started in 1386 and completed by French emperor Napoleon, who said he would pay for its facade.
Italy's heritage has been affected by the austerity measures. Museums have been forced to close, and world-famous buildings are crumbling.
An official at the cathedral maintenance body - called the Veneranda fabbrica del Duomo - said renovation work meant that part of the roof walk was blocked off, but "we would love to let everyone walk everywhere".
Of the eight spires adopted so far three were chosen by "ordinary Milanese people", the official said, and the other five by companies.
In June, pieces of stone fell off the Trevi fountain in Rome, while blocks of marble have been falling off the Colosseum, one of the world's best-known buildings.
A 25m euros (£20m) private donation has been secured for restorations to that monument.
The culture budget, already a tiny fraction of Italy's national spending, has been cut by a third over the past three years.
CORRECTION 19 November 2012:An earlier version of this story incorrectly referred to "gargoyles", not "spires". The campaign is about the cathedral's spires.