Greek protesters hurl coffee at German diplomat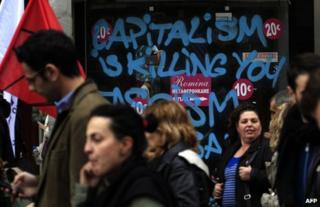 Protesters in Greece's second city, Thessaloniki, have hurled coffee at a German diplomat amid resentment over austerity measures advocated by Berlin.
They broke into a conference centre where mayors of Greek and German cities were due to meet.
It was not immediately known if the diplomat had been hurt.
On Wednesday, an envoy of German Chancellor Angela Merkel said three Greek council staff were needed to do the work of a single German.
"Studies show that 3,000 employees are required in Greece for local administration work carried out by 1,000 people in Germany," German Deputy Labour Minister Hans-Joachim Fuchtel said.
Mr Fuchtel has been tasked with working with Greek officials to streamline the operation of local councils.
While he has been visiting Thessaloniki, it is not thought that the envoy was himself targeted in the coffee incident.
Demonstrators chanted "Nazis out" and "This will not pass" as they tried to prevent delegates attending the conference.
"These people haven't come here to help us, but to announce our death sentence," said Themis Balasopoulos, leader of Greece's municipal workers' union, who was at Thursday's protest.
A visit by Mrs Merkel to Athens last month drew street protests.
As the EU's biggest economy, Germany has a key say in debt relief decisions over Greece.