Irish deputy prime minister calls for same-sex marriage referendum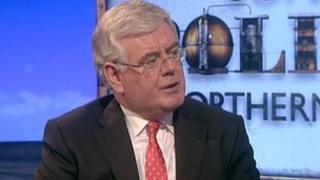 The Irish deputy prime minister has said the time has come to allow gay and lesbian couples to marry.
Eamon Gilmore had said he would like to see a referendum on the issue of same-sex marriage "as soon as possible".
He told the Republic of Ireland's state broadcaster, RTE, that he believed marriage was "a human right" for same sex couples.
Mr Gilmore said he would like to see the referendum held within the lifetime of the current parliament.
The deputy prime minister - or tanaiste - leads the Irish Labour party which is currently in government with its coalition partner, Fine Gael.
The coalition has set up a constitutional convention to reform the Irish political system.
The Labour leader said a referendum on same-sex marriage would be one of the first issues the new body would discuss at its inaugural meeting next month.
At the weekend, voters in the Republic of Ireland approved an amendment to the Children's Referendum which was aimed at improving child protection.