France MPs clash over Manuel Valls terrorism claim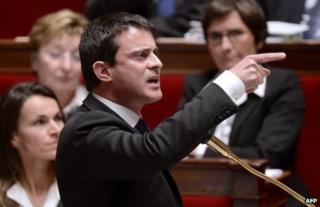 France's Socialist interior minister has accused his conservative predecessors of bringing back terrorism after a reported surge in crime.
Manuel Valls blamed the UMP party of former President Nicolas Sarkozy for data described by France's centre-right Figaro newspaper as "catastrophic".
"It was your government... that is to blame for the return of terrorism in the country," Mr Valls told a UMP MP.
His remark created uproar in the National Assembly.
So incensed was the former Europe minister, Pierre Lellouche, that he had to be restrained by parliamentary bailiffs as he approached the interior minister, the BBC's Christian Fraser reports from Paris.
There were shouts of "Valls resign" and such was the commotion that the session had to be suspended.
Resignation call
Mr Valls was responding to a question from UMP deputy Eric Ciotti, who pointed to October government crime figures reported by Le Figaro.
The paper quoted statistics showing a rise in violent crime of nearly 9%, a rise in theft of 8% and a rise in economic crime of nearly 18%.
Such figures, the main newspaper of France's conservatives said, had not been seen since the last Socialist government under Prime Minister Lionel Jospin (1997-2002).
The Socialists, re-elected in June after a decade out of office, are sensitive to UMP accusations that they are soft on crime, our correspondent says.
"The failure is yours!" Mr Valls retorted in parliament. The UMP government, he said, had presided over the rise in crime, reducing police jobs.
Mr Lellouche said: "I wanted to grab him by the collar and remind him that that half of France which voted for Mr Sarkozy can never be accused of encouraging terrorism."
France saw its worst terrorist attack in years this March when a lone Islamist gunman, Mohamed Merah, killed seven people in the Toulouse area, including children at a Jewish school, before dying in a police siege.
The president of the UMP group in the National Assembly, Christian Jacob, called for Mr Valls's resignation.
This weekend the UMP will elect its new leader with calls for the party to unite, our correspondent notes. There have been widely expressed concerns that their agenda has been overly influenced of late by the far-right Front National, he adds.
One of the leading candidates for the party leadership, former Prime Minister Francois Fillon, said in a tweet that he condemned Mr Valls's "unworthy gaffe".