Monflanquin affair: French 'guru' jailed for swindling family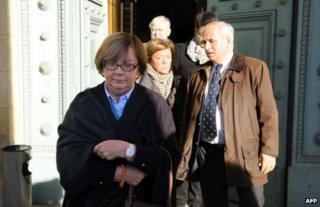 A man who tricked a French noble family into fearing they were victims of an imaginary plot by freemasons has been jailed for eight years.
Thierry Tilly, 48, was convicted of false imprisonment and of abusing the weakness of psychologically vulnerable persons at his trial in Bordeaux.
An accomplice, Jacques Gonzalez, was jailed for four years.
Tilly robbed the De Vedrines family of their possessions, including their chateau, Monflanquin, the court heard.
The victims were dubbed by the French media as the "recluses of Monflanquin" because of the sheltered lives they led as a result of Tilly's scheming.
After gaining access to the family, he made himself indispensable before manipulating each of his dupes "in a diabolical manner", France's Le Figaro newspaper writes.
Described by a family lawyer as an "unusual guru", Tilly robbed them of some 4.5m euros (£3.6m; $5.8m) between 1999 and 2009.
Tilly argued in court he had been trying to protect the family, whom he reportedly described as a "gang of resentful, greedy country nobles".
His own lawyer called for clemency, saying his client, who claimed to be a descendant of the Habsburgs and a former "hostage of the freemasons", was "probably slightly deranged".
'Group paranoia'
Ten of Tilly's victims faced him in court. The 11th, a grandmother named Guillemette, died in 2010 at the age of 97.
The court heard that the family of Protestant nobles had lived as recluses at Monflanquin, near Bordeaux, after Tilly put them under his "mental spell".
They also spent some time in Oxford, England, still fearing that their lives were in danger.
Explaining the verdict, the court said Tilly had created a state of submission among his victims, encouraging "group paranoia and mental destabilisation".
One of the victims, Guillaume De Vedrines, said Tilly had conspired to turn members of the family against each other.
"Mr Tilly is not a guru and we did not form a sect," he was quoted as saying by le Figaro. "He is a crook, a highly perverse man, a predator, the Hannibal Lecter of manipulation."
Tilly and Gonzalez, 64, have 10 days to appeal against the sentence.