US wins re-election to UN Human Rights Council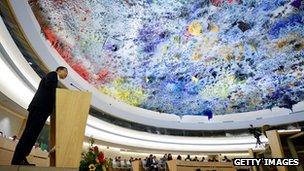 The United States has been elected to the 47-nation UN Human Rights Council for another three-year term.
Germany and Ireland were also elected by the 193-member General Assembly for seats on the Geneva-based council.
Their regional grouping, Western nations, was the only contested election - Sweden and Greece also ran for seats.
Fifteen other countries, uncontested by their regional groupings, also received seats on the council.
They are Argentina, Brazil, Ivory Coast, Estonia, Ethiopia, Gabon, Japan, Kazakhstan, Kenya, Montenegro, Pakistan, South Korea, Sierra Leone, United Arab Emirates and Venezuela.
The Human Rights Council was created in 2006 to replace the UN's widely-discredited Human Rights Commission.
But the council has faced similar criticism to the commission, with the election of countries with questionable track records in human rights.
The administration of US President George W Bush refused to join the council when it was created, accusing it of repeatedly criticising Israel while failing to comment on rights abuses elsewhere.
But that policy was reversed by his successor Barack Obama, whose administration said it wanted to work from within the council to improve the UN human rights system.
Related Internet Links
The BBC is not responsible for the content of external sites.