Cypriots seek recompense over British 'torture'
By Ray Furlong
BBC Radio 4 PM programme, Nicosia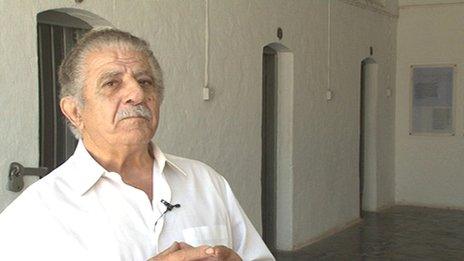 A group of 60 Cypriots who fought against British rule in the 1950s are seeking to follow in the footsteps of three Kenyans and take legal action in London, claiming they were tortured and mistreated in British custody.
Last week, Thassos Sophocleous, the head of the Cypriot veterans' association, made an emotional return to his Nicosia prison cell - for the first time since he was held there.
He recalled hearing the gallows opened as fellow prisoners were executed in the small hours of the morning, and alleged being tortured himself.
"Once, they were hitting me on the back with whips, and at the end of the whip there were small pieces of iron. They were opening up my back, blood was coming out, and they were salting it," he said.
"I asked them to kill me. But he was laughing, saying: 'We're not going to kill you [just] because you don't want to suffer. You are going to suffer here, night and day.'''
Mr Sophocleous was a member of Eoka, an armed group which launched a bloody campaign against British rule, carrying out bombings and assassinations.
He was convicted of possessing firearms, condemned to life imprisonment, and taken with other Eoka prisoners to Wormwood Scrubs prison in London.
The Cypriots immediately complained of torture, and were visited by a group of Labour MPs.
One, Fenner Brockway, told the House of Commons in July 1957: "I saw prisoners at Wormwood Scrubs whose arms had been broken, who had swellings on their bodies the size of cricket balls, and scars on their necks."
The prisoners were eventually released in 1960, after the UK granted Cyprus independence.
The day after revisiting the prison in Nicosia, Mr Sophocleous organised a get-together of other veterans at the Eoka club.
The walls there are peppered with black-and-white photos: British troops rounding people up on the streets, mug shots of young Eoka fighters, and oil paintings of Eoka leaders in heroic poses.
One man, Neoptolemus Georgiou, recounted volunteering for the Royal Navy in World War II, before joining Eoka as a gun-runner.
"I lost the hearing in this ear, and three teeth here," he said, gesturing to his face, "and I have problems with my backs and legs - all from that time. They put a tin pot on my head and bashed it repeatedly."
Another man, Panikos Mikhailidis, said he was treated to a form of what is now known as waterboarding.
"It was inhuman from the British - a European people," he said.
"But there were some good ones. One guard gave me a piece of Christmas cake. His superior shouted: 'Why are you giving cake to a terrorist?' But the soldier answered: 'On Christmas Day, you must be kind to everyone.'"
There is some documentary evidence. Colonial-era files recently declassified in Britain have revealed cases of brutal abuse by British soldiers - and more archives are expected to be opened soon.
The Eoka veterans are working with a Birmingham-based lawyer to fight their case in Britain. He said it was too early in the process to give an interview.
But the lawyer who represented the Kenyan plaintiffs, Martyn Day, said: "The Cypriots and maybe other parts of the colonial world may take great comfort from the fact that the courts are basically opening their doors to say that, where you have suffered such severe abuse, you may have a claim."
He said the significance of the Kenyan ruling was that a case could, under certain circumstances, be brought despite falling outside the usual statute of limitations of between three and six years.
But he said some of these circumstances may not apply to Cyprus.
"In Kenya, the Mau Mau were a proscribed organisation until the 2000s. [My clients] are a very rural local people, massively away from what we'd say is the developed world over here. These features may not apply in Cyprus.
"The judges perform a balancing act. There's always a worry for the Cypriots that some of those may weigh heavily against them.'
In other words, there is no guarantee a court would simply follow the Kenyan case as a precedent - it may decide the Cypriots could have brought their case earlier.
The Foreign Office issued the following statement: "The UK government abhors all abuses of human rights. Much has happened in the past which we may regret today. We should keep in mind that these events did happen over half a century ago and bear no relation to the present government's policies towards Cyprus, which are well known."
Back at the Eoka club, all the men were adamant that it was worth returning to these events nearly six decades later.
"Even if it comes late, justice must be satisfied," said Panikos Mikhailidis.
"What the court decides is one thing," adds Thassos Sophocleous. "But the main thing is we want the British people to know that what they did was not right."