Greece MPs face new austerity budget vote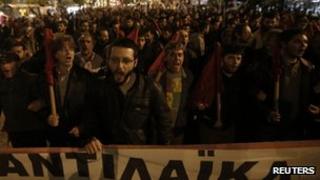 More than 10,000 protesters have rallied outside the Greek parliament in Athens, where MPs are due to vote on a 2013 budget of fresh spending cuts.
Another austerity package of tax rises and pension cuts was passed last week against a backdrop of protests where tear gas and petrol bombs were used.
Now, parliament is faced with a revised budget that foresees a sixth consecutive year of recession.
Greece is trying to secure another instalment of its EU/IMF bailout.
The budget, which involves further deep cuts to pensions, salaries and benefits, will have to be passed if Athens is to be granted the 31.5bn euro (£25bn; $40bn) loan necessary for the Athens government to stave off bankruptcy.
Prime Minister Antonis Samaras has suggested that without the new funding, Greece will start running out of money on Friday.
Eurozone finance ministers are due to meet on Monday, hours after the vote, and Mr Samaras is expected to travel to Brussels for a series of meetings.
The problem that he faces is that it could take some weeks before the EU backs the new instalment, BBC Athens correspondent Mark Lowen reports. The measure will have to be approved first by some parliaments, including Germany's.
Greece's creditors also want to agree on how to bring its debt down to a sustainable level before more cash is handed over, our correspondent adds.
'At its limits'
The economy is expected to shrink next year by 4.5% and public debt is likely to soar to 189% of GDP, almost double Greece's national output. This year, public debt stood at 175%.
As MPs inside parliament debated the budget, marchers outside brought the centre of the capital to a standstill.
Members of the Communist-affiliated Pame union, the private sector GSEE union and the public sector Adedy union urged parliament to reject the budget.
But there was none of the violence see on Wednesday when protesters attacked riot police with petrol bombs.
Evangelos Venizelos, whose socialist Pasok party is part of the governing coalition, warned European partners that any delay in pushing through the loan worked against Greece and the eurozone as a whole.
"The country is at its limits," he said.
In an interview for Die Welt newspaper, German Finance Minister Wolfgang Schaeuble said nobody opposed the next slice of loan funding, but the Greek government should have met the conditions for it months ago.
"We are not responsible for the urgency. All those concerned have known the deadlines for a long time."