Italy doctors held over 'unauthorised treatments'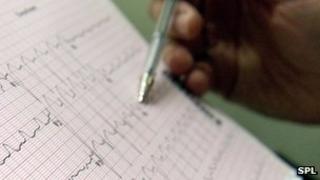 Police in Italy have arrested nine cardiologists over allegations that they carried out unauthorised experimental treatments on patients.
All the doctors arrested are linked to the Policlinico hospital in Modena.
The doctors are also accused of corruption and embezzlement. The police told local media that they had seized around 1m euros ($1.2m; £0.8m).
The police say their ongoing inquiry also includes an investigation into two suspicious deaths at the hospital.
One of the doctors has been put in jail while the others are under house arrest.
Investigators "uncovered a well-oiled organisation made up of cardiologists and representatives from companies supplying medical equipment, implicated in corrupt business affairs", a police statement said, according to the AFP news agency.
The investigation has also involved 12 firms, six of them foreign, that supply medical equipment.
They have been barred from working with the state health service while the inquiry continues.
The investigation began after a consumer protection group started to receive anonymous tip-offs about alleged irregularities at the hospital, the BBC's Alan Johnston in Rome reports.
The authorities seem to have become increasingly concerned as they scrutinised both the medical and financial practices there, our correspondent adds.
"[The investigation] reveals - if the serious accusations are confirmed - that a number of professionals are sadly not playing by the rules," Health Minister Renato Balduzzi said, according to the Associated Press news agency.