Greece presents crucial cuts package to parliament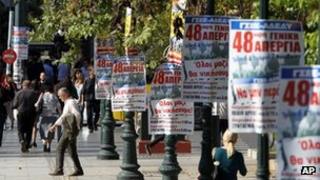 Greece's government is putting a new austerity package to parliament, amid the threat of bankruptcy if it fails.
MPs will vote on the package - worth 13.5bn euros (£11bn) in deficit cuts, including tax rises, spending cuts and structural reforms - later this week.
One of the parties in the governing coalition opposes the measures.
International lenders say Greece must pass the measures to receive any more bailout cash. Greek unions are warning of protest strikes all week.
They began on Monday, when some transport systems were shut, and journalists were among others who did not turn up for work.
The main unions have called a 48-hour general strike, starting on Tuesday, and for demonstrations at parliament.
'Final cuts'
Prime Minister Antonis Samaras has tried to reassure the public, who have endured repeated rounds of austerity and a five-year recession.
"These will be the last cuts in wages and pensions," he said on Sunday.
"We promised to avert the country's exit from the euro and this is what we are doing. We have given absolute priority to this because if we do not achieve this everything else will be meaningless."
He is hoping to have enough votes to get the deal through parliament, despite the smallest member of the three-party coalition, the Democratic Left, saying it will not vote in support.
The second party, the socialist Pasok, is also facing a rebellion by some of its MPs.
The austerity package will be followed through parliament by the 2013 budget.
Greece's international lenders have said approval of both is necessary if it is to receive the next tranche of bailout aid, worth 31.5bn euros. Without the money, Greece would be unable to meet its obligations and would go bankrupt.