Toulouse killings: Benjamin Netanyahu attends memorial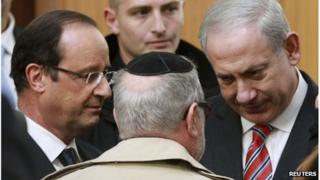 Israeli leader Benjamin Netanyahu has attended a memorial for victims of an Islamist gunman in Toulouse, France.
Mr Netanyahu and French President Francois Hollande joined families and friends of those killed in a rampage by Mohamed Merah in March.
He killed three pupils and a teacher at a Jewish school, and three soldiers, before police killed him on 22 March.
The school's head teacher, whose daughter was killed, said the attacks had "plunged us into darkness".
"My life as a husband, as a father, and as the head teacher of a school was turned upside down," Yaacov Monsonego told the memorial service.
His seven-year-old daughter Myriam was among those shot at the Ozar Hatorah Jewish school.
Merah, who was believed to have attended jihadi training camps, also killed a French-Israeli teacher and two other pupils at the school.
The three soldiers he killed were of North African origin.
His killing rampage terrorised the Toulouse area from 11 to 19 March.
A huge manhunt culminated in a 32-hour stand-off with police at a Toulouse apartment, where he was shot dead.
At the memorial service, Mr Hollande promised to make the fight against anti-Semitism a "national cause".
Mr Netanyahu paid tribute to the French leader's "determined and clear message".
"Nothing justifies the killing of children. Nothing justifies the killing of Jews," he said.