Britain's fight over EU budget as Brussels seeks rise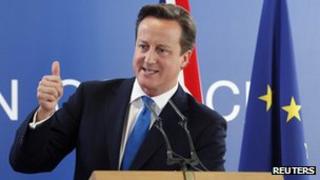 Britain is not alone in seeking to rein in the EU budget. It has allies.
Plenty of other countries agree that the EU cannot ask for austerity on the one hand, whilst not applying the same demands to itself.
No other country, however, takes such a hardline position as the UK.
The EU Commission wants a 5% increase in the seven-year budget. That would increase it to over 1tn euros (£830bn; $1.3tn).
The Germans want to limit the budget to 1% of the bloc's GDP. That would be over 100bn euros less than the Commission wants.
The British want a freeze in EU spending, allowing for inflation. That would produce a budget about 70bn euros less than the Germans.
Others have their objections. The Swedes believe the priorities are wrong: too much money is still going on agriculture.
The Poles fear that a budget freeze will reduce the funds they receive from the cohesion funds - EU money that helps the poorest regions across the 27-nation bloc.
There are groups, like the Socialists in the European Parliament, who are warning against the budget becoming a victim of domestic political infighting.
No other member state would support a reduction in spending. The Commission says cutting its proposed increase would damage growth.
Forging an agreement on 22 November will be very difficult. Extra food has been ordered in case the summit extends into the weekend.
There has even been consideration of whether to postpone the meeting altogether.
British 'exceptionalism'
Much will turn on talks next week between German Chancellor Angela Merkel and David Cameron.
The Germans will be looking for compromise. The fear in Berlin is that the British have left themselves little room to manoeuvre in saying - as George Osborne did today - "we will veto any deal not good for British tax-payers".
That plays badly in Europe. The culture is built around compromise and deal-making.
The mood in Europe in recent months has turned against Britain.
On a visit to Berlin this week, I was left in no doubt that the German government would prefer the UK to remain at the heart of Europe. There is not the inclination, however, to make too many concessions or to pander to what is called British exceptionalism.
What they will not accept is that Britain either obstructs moves aimed at solving the eurozone crisis or disrupts EU business.
The UK proudly says it has the toughest negotiating stance of any EU state, but if it is to avoid being isolated it will have to forge alliances - and that usually involves horse-trading.