Hard times... Irish find comfort in soup kitchen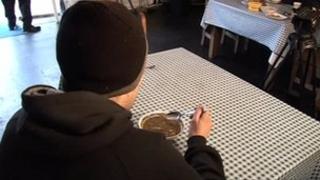 Times are hard in Ireland - but the country still has heart.
Off a side street in the west coast city of Galway is one of a growing number of new eateries in the Republic... the charity soup kitchen.
In the Twist Soup kitchen, Keith Daly has just finished a plate of beef stew.
"I just find it hard at the moment, I had painting and decorating work three years ago on building sites, but it's all gone now.
"I have nothing and basically this place has been a lifeline for me, I come here to get help with food."
The charity kitchen offers free food to those who cannot afford to pay: those who can afford it are asked to make a donation.
Supporters of the venture are asked to pay too.
Sitting at the next table in the cafe in Galway's Queen Street is Kieran Coneely.
Until recently the 42-year-old never thought he would need the services of a soup kitchen.
"Never, ever did I think I'd need to come to such a place.
"But now, I've lost jobs, lost my family, lost houses, I've lost everything and I have nothing else to do.
"This is the only place I meet people that are in the same boat as me, that are stuck."
The soup kitchen is run by a former helicopter pilot, Oliver Williams, who once needed similar help while homeless in London in the 1980s.
"I was only 15 and I ended up going into a place called Centrepoint in Soho.
"They took me in and gave me a meal and a bed and some good advice and put me on the right track, when I could have ended up on the wrong track.
'Giving back'
"I was fortunate, and I always said I would do the same some day in my own country, as a way of giving something back."
A recent report, commissioned by the Dublin government, found that 10% of people in the Republic of Ireland are living in food poverty.
"What surprises me the most is the type of people that come in to see me," explains Oliver Williams.
"Ordinary family people that have fallen on hard times and can't afford to make ends meet."
The trend in Galway, like many towns across the Republic, is for businesses to close.
Soup kitchens however buck the trend.
And the town of Athlone, situated some 100km (60 miles) east of Galway, is where Oliver Hayes will next week open another soup kitchen.
"I'd love to see this place closing down, but that's not going to happen," says Oliver Williams.
"In Galway we are feeding on average 85 people a day, but the numbers are rising slowly and I think we will be busier in Athlone."
Kieran Coneely remains hopeful that he will find work.
"In the next couple of years I hope to God I get back on track."
"Get a job, see my kids, get my own place, I don't know if it will happen. I'm living every day as it comes."