Dog sniffs out illegal immigrants' coffin ruse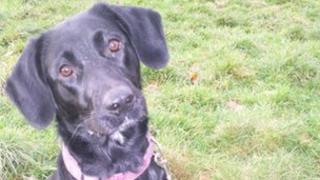 Three would-be illegal immigrants have been stopped from entering Britain after they were found inside a truck full of coffins.
The Eritrean nationals were discovered by a sniffer dog named Mitzy after UK immigration officials checked the lorry at Dunkirk port in northern France.
The coffins were aboard a Bulgarian-registered vehicle and were bound for a funeral director in west London.
The stowaways were handed over to French border police.
"This was an unusual type of discovery," admitted Paul Morgan, the South East England and Europe director for the British Border Force.
"But in the past we have found people hiding in an array of freight, ranging from dog biscuits, bathtubs and now coffins", he added.
British immigration officers work in ports in northern Europe. They regularly use sniffer dogs as part of their investigations.
Heartbeat detectors, carbon dioxide probes and physical searches are other measures that are used to help find people hiding in vehicles.
The UK Home Office says that in the year 2011-12 about 9,000 attempts to cross the English Channel illegally were thwarted by British officers at Channel ports in continental Europe, the BBC's Maddy Savage reports from Paris.