Wine shortage to follow poor 2012 grape harvest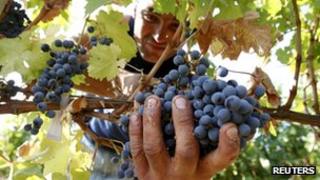 A poor grape harvest in 2012 is predicted to lead to a shortage of wine across the world.
The International Organisation for Vine and Wine (OIV) says global wine production will fall to its lowest level since records began in 1975.
Hardest hit are wine-makers in Argentina, where output will fall 24%, and in the world's two largest wine producers, Italy and France.
The OIV said the fall in production was likely to push up prices.
Global thirst for wine is growing, especially in the developing world, and demand is expected to outstrip production this year.
The organisation's director-general, Federico Castelluci, said: "We're dipping into reserves for supply."
Overall production is expected to fall to just under 250 million hectolitres (just over five billion gallons). Last year the world produced 265 million hectolitres.
The one major producer to buck the trend is the United States, where output is expected to rise by 7%.