Ukraine election: Yanukovych shrugs off OSCE criticism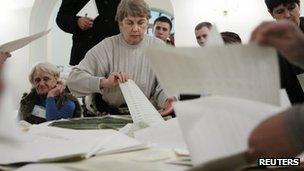 President Viktor Yanukovych of Ukraine has commended elections that are expected to return his allies to power, making no mention of sharp criticism.
In a statement, he said that observers had given a "positive assessment to the process of voting", and he added that he was glad it had gone smoothly.
The OSCE observer mission did not criticise the actual process of voting.
However, it found that the vote had been marred by "abuse of power and the excessive role of money".
It said state resources had been used to give the party of power an unfair advantage during the campaign, and noted that Mr Yanukovych's chief rival, former Prime Minister Yulia Tymoshenko, was in prison.
US Secretary of State Hillary Clinton added her voice to criticism of the election, saying: "We share the view of OSCE monitors that Sunday's election constituted a step backward for Ukrainian democracy."
With most of the votes counted, Mr Yanukovych's Party of the Regions looks on track to become the largest party, poised to dominate the new parliament with the support of its Communist allies.
Opposition parties may have won more votes between them proportionally but Ukraine's electoral system, under which half of MPs are elected on a party list basis and half in single-seat constituencies, means Mr Yanukovych's allies are likely to get a majority of seats.
With 94.86% of the party list vote counted, the Party of the Regions had 30.7% of the vote to 25% for Mrs Tymoshenko's Fatherland party, the RBK-Ukraine news website reports.
They were followed by boxing champion Vitali Klitschko's party Udar on 13.7%, the Communists on 13.4% and the far-right Svoboda party on 10.1%.
With 95.05% of the single-seat vote counted, the Party of the Regions had 117 seats and Fatherland had 42, RBK-Ukraine reports. The overall results for the remaining parties were unclear.
Related Internet Links
The BBC is not responsible for the content of external sites.