Fire causes explosion near Mullingar shopping centre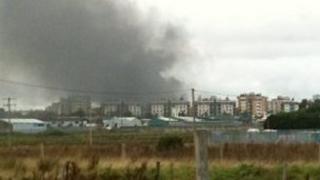 A fire has caused an explosion at the back of a shopping centre in County Westmeath.
Police said the fire broke out in a storage shed behind a Penneys and a Marks and Spencer shop in Mullingar on Monday afternoon.
It quickly spread and led to the explosion. No-one was hurt but a number of cars were damaged in the blaze.
The shopping centre was evacuated as a result. The scene has been cordoned off for a forensic examination.