PIP breast implant boss Jean-Claude Mas leaves custody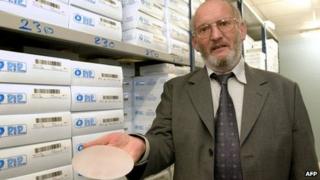 The founder of the scandal-hit French breast implant company PIP has been released from custody pending trial.
Jean-Claude Mas, 73, spent eight months in detention after his company's breast implants were revealed to be prone to rupturing.
He is due to go on trial in April and will have his movements restricted in the meantime.
PIP was shut down in 2010 after it was found to have been using industrial-grade silicone gel.
A world-wide health scare was sparked in January when the French government urged some 30,000 women to have their PIP implants removed after a spate of ruptures.
Fuel additives
It then emerged that 40,000 women in the UK and up to half a million more worldwide have been using the company's breast implants.
Studies showed that the sub-standard silicone used posed no serious long-term threats to health, but the PIP products were up to twice as likely to burst as other implants.
French government scientists found that Mr Mas' implants contained the chemicals baysilone, silopren and rhodorsil - normally used as fuel additives or in the manufacture of industrial rubber tubing.
He has reportedly confessed to illegally obtaining the low-cost gel but denies that the PIP implants posed a threat to health.
A French judge agreed on Monday to release Mr Mas and place him under "judicial supervision", his lawyer Yves Haddad said. His passport has been confiscated and he is banned from meeting Claude Couty, his former right-hand man at the company.
Mr Mas and other PIP officials are due to go on trial in April 2013 in a case that is expected to involve some 180 lawyers and 4,600 complainants.