Leading Belarus dissident Sannikov gets UK asylum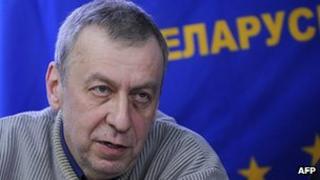 A leading dissident in Belarus, Andrei Sannikov, has been granted political asylum in the UK, his wife says.
Mr Sannikov's sister Irina lives in London and he is staying with her.
Mr Sannikov received a five-year jail sentence in May 2011 for organising mass protests but was amnestied in April this year.
He came a distant second in the 2010 presidential election won by President Alexander Lukashenko, in a ballot marred by alleged abuses.
Mr Sannikov's wife Irina Khalip is still in the Belarusian capital Minsk, unable to travel abroad because of a suspended prison sentence that she received in 2011.
Belarus is under US and EU sanctions. Mr Lukashenko first became president in 1994 and has a monopoly on power. He has muzzled dissidents, cracking down hard on protests.
Mr Sannikov previously served as a top diplomat.