MEPs reject nominee Mersch over men-only ECB board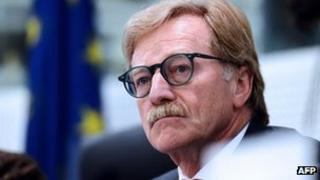 The European Parliament has rejected a nominee to the European Central Bank's executive board because of the lack of women at the top of the ECB.
Luxembourg banker Yves Mersch was rejected by 325 votes to 300, with 49 abstentions.
The 27 EU governments can still appoint him anyway, but correspondents say the vote was a strong sign of disapproval.
The European Commission is considering how to make member states raise the numbers of women on company boards.
The ECB sets monetary policy for the 17-nation eurozone and is to become a powerful regulator under plans for an EU banking union.
Several MEPs sharply criticised ECB president Mario Draghi over the gender issue when he addressed them earlier this month.
The British MEP who chairs the parliament's Economic and Monetary Affairs Committee, Sharon Bowles of the Liberal Democrats, lamented the EU's record on the gender issue.
She said European Council President Herman Van Rompuy had only paid "lip service to what is a very serious matter".
"He has promised nothing, not even a roadmap, for appointing women to the ECB board in the future," she said. "European institutions should be leading by example, not dragging their feet."
Mr Mersch, head of Luxembourg's central bank, was chosen by eurozone finance ministers.
There are currently no women on the ECB's six-member executive board, which runs its day-to-day business; on its 23-member governing council, which decides policy; and on its 29-strong general council, which brings together EU central bankers.
However, the executive board did have a woman member from when it was founded in 1998 until May of last year, when Austria's Gertrude Tumpel-Gugerell left.