Turkey's press continues to feel pressure from the state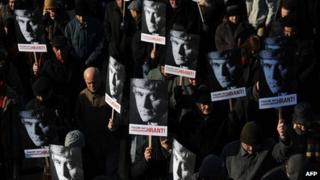 Turkey has put more journalists in jail than any other country, thanks to strict laws which punish dissent against the state. Critics says the state is stifling free speech, while the government says it is curbing propaganda by Kurdish separatists. Is the treatment of reporters hurting Turkey's chances of joining the EU?
Istanbul's Palace of Justice, Europe's largest courthouse, is a towering structure of glass and aluminium that dominates the surrounding neighbourhood. In one of its dozens of courtrooms one of the world's largest trials of journalists is slowly progressing.
In all, 44 reporters, drawn mainly from Kurdish publications and news agencies, are on trial under the country's anti-terrorism laws. If found guilty, they could all face long prison sentences.
The first hearing in September drew international publicity, but ended in chaos with the defendants demanding to speak in Kurdish and the judge angrily berating their lawyers.
"It is scandalous," said Turkish parliamentary deputy Ertugrul Kurkcu of pro-Kurdish Peace and Democracy Party. "It indicates this trial is going a bad way."
Some, however, think that the fact there is a trial at all is a step in the right direction. "It is better than the past," says Huseyin Akyol, editor of the pro-Kurdish newspaper Ozgur Gundem, eight of whose staff are on trial.
Mr Akyol, a 23-year veteran of the paper, offers a stark perspective. "In the 90s the state killed us, we lost 76 journalists and distributors and they blew up our offices. Now they just imprison us - although life in prison is difficult."
Turkey currently tops the world for jailed reporters. A report published this month by the US-based Committee to Protect Journalists found 76 journalists were imprisoned as of 1 August, of which 61 were identified as being detained because of their reporting.
But the government claims most are not legitimate journalists but rather "propagandists" for the Kurdish rebel group PKK, which has been fighting the Turkish state for autonomy since 1984.
"[There is] no difference between the bullets fired and the articles written in Ankara," said Interior Minister Naim Idris Sahin in a speech this September.
Critics say this mentality lies at the heart of Turkey's anti-terror laws and why so many journalists are ending up behind bars.
"The anti-terror laws are so broadly written. Literally anything can be considered as supporting terrorism and according to the law that makes you a terrorist," says Emma Sinclair Webb, the Turkish representative of the US-based Human Rights Watch.
"You must start changing a lot of laws and the mentality of the courts, which put people in prison for long periods unquestioningly."
Alarm bells
The long arm of the Turkish law has extended into mainstream journalism as well.
"I was driving my child to school and on the radio I heard the police were making arrests in relation to a conspiracy against the government, I was shocked when they said I was one of those to be arrested," journalist Nedim Sener tells the BBC, sitting with his wife in his apartment after a long spell in jail.
Mr Sener has won international journalism awards for work which has included investigating an alleged conspiracy by the Turkish army and state against the present government. Now he is accused of being involved in the very conspiracy he had been investigating.
"Our cell was for three people. For 13 months we didn't see anybody else other than each other. I can describe the place as a concrete grave. A place that people are left to decay."
He blames his detention on his ongoing investigation into the 2007 murder of Turkish-Armenian journalist Hrant Dink, which is widely blamed on elements within the Turkish state.
The government denies the charge, saying that authorities successfully caught and convicted Dink's murderer.
But, while one man was convicted, in January, the court acquitted 19 others.
And although the court rejected the allegation of a state conspiracy, a heated debate about that continues in Turkey.
Fethiye Cetin, representing the Dink family, slammed the decision outside the court, saying it meant "a tradition was left untouched: the state tradition of political murders".
EU criticism
The imprisonment of high profile journalists like Mr Sener and his colleague Ahmet Sik set alarm bells ringing across Turkey, and beyond.
"There is absolutely no doubt, I have to say, that some of them [journalists] are in jail because they have written or broadcast things which are unpalatable to the government and to the authorities in this country," stated Richard Howitt, member of the European Parliament's Foreign Affairs Committee.
"That is not just unpalatable to those of us in Brussels and the European Union. It is unacceptable."
Large protests calling for Mr Sener and Mr Sik's release were attended by some of the country's most well-known journalists and news presenters. The journalists were eventually released this March, after their charges were reduced - although their case continues. Their release was possible under government legal reforms.
The government claims it is committed to further reform, saying new legislation in parliament will address growing criticism. "Thoughts should not be restricted by any limit," declared deputy Prime Minister Besir Atalay on Press Freedom Day last July, acknowledging that problems still exist. "In our current legislation, we still have some regulations keeping thoughts and violence together."
But such commitment was not enough for the European Union, which criticised Ankara's "increasing tendency to imprison journalists, media workers and distributors," in an annual progress report on Turkey's membership bid, published this month.
"Freedom of the media continued to be further restricted in practice," it said.
The report was immediately dismissed by Ankara. "Too much emphasis was placed on isolated incidents, and dangerous generalisations were reached through these isolated incidents," countered Ergemen Bagis, Turkey's minister for EU relations.
'Dangerous course'
The Turkish media is dominated by owners with other commercial interests, many of whom are competing for lucrative government contracts. Aydin Dogan, one of the country's most prominent businessman, was forced to pay a tax fine of $1bn in September 2009, sending shockwaves through Turkey.
The fine followed the publication by one of his newspapers of a German judge accusing senior members of the Turkish ruling AK party of involvement in Germany's biggest charity fraud case. The government strongly denied involvement in the fraud - or collusion with the tax investigation.
"Self-censorship now is the basic instinct determining journalist behaviour when they write a news report," says Kadri Gursel, a columnist for the Milliyet newspaper.
"Why? Because of the fear of media bosses, who fear to be punished by the government who can do this in various ways. For journalists the minimum threat is to be fired, the maximum is jail."
One anonymous journalist says: "When the new owner met us, he said: 'I am not interested in stories about the prime minister's son owning big boats'."
The government says the media in Turkey is still free. Turkey's tough stance towards the Syrian regime is the subject of withering criticism by much of the mainstream media. The country has also witnessed a phenomenal rise in the alternative news through social media.
But for many reporters the profession has become an increasingly risky occupation. Mr Sener, only recently freed from prison, is not optimistic.
"Journalists are afraid, but what is worse is that society is not talking about it, the fear has spread around the public. They are not breathing. And I see this as a very dangerous course for Turkey."