US concern over Russian activist's detention in Kiev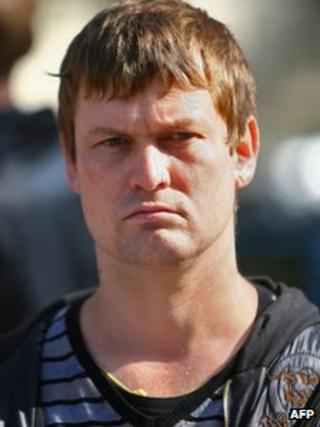 The US embassy in Moscow has expressed concern over the detention of a Russian opposition activist in Kiev and his transfer to Moscow.
Leonid Razvozzhayev was apparently snatched off the street on Friday in the Ukrainian capital as he sought UN advice about political asylum.
He is accused by Russian investigators of plotting mass disorder in Russia.
Mr Razvozzhayev insists he was kidnapped and tortured but Russian officials say he handed himself in.
Ukraine's interior ministry said police had not got involved because it appeared that Mr Razvozzhayev had been detained not by criminals but by "secret services". There was no immediate comment from the Ukrainian foreign ministry.
A wider investigation is under way in Russia into opposition activists, sparked by allegations made against them in a recent TV documentary.
There are fears among human rights activists and opposition leaders that Russia's legal machinery is being used to repress political dissent.
'Bundled into van'
Joseph Kruzich, press attache at the US embassy in Moscow, told Russian media that Washington had officially expressed concern to the Russian foreign ministry over Mr Razvozzhayev's situation and asked it to "examine the issue carefully".
The activist is being held at Moscow's Lefortovo prison where he was visited by human rights activists on Tuesday evening.
He reportedly told them he had been bundled into a van by masked men in Kiev, driven across the border into Russia and tortured in a cellar.
By his own account, he signed a confession while in handcuffs before being driven on to Moscow.
A Russian TV crew also managed to film Mr Razvozzhayev outside a Moscow court, when he could be heard shouting that he had been kidnapped in Ukraine and tortured for two days.
Asked to comment on the case by the BBC's Ukrainian service, Ukrainian interior ministry spokesman Volodymyr Polishchuk said "there was no crime, kidnapping or any unlawful actions involved".
"It could have been an operation by secret services," he said.
Asked if foreign secret services may have carried out the arrest on Ukrainian soil, he replied: "I don't know. I don't have this information. I advise you to approach the foreign ministry or Security Service of Ukraine about this."
The Ukrainian foreign ministry told the BBC on Wednesday it still had no official comment to make.
Film allegations
Russia's Investigative Committee (SK), a police body modelled on the American FBI, said Mr Razvozzhayev had turned himself in on Sunday, three days after an arrest warrant was issued against him.
It made no mention of his movements before Sunday.
The detainee is an aide to Russian opposition MP Ilya Ponomarev and an ally of leftist opposition activists Sergei Udaltsov and Konstantin Lebedev.
Last week the SK confined Mr Udaltsov to Moscow after questioning him about the same alleged plot.
The plot allegation was aired in a documentary on Russia's NTV channel, which the SK cited as evidence.
A spokeswoman at the UN refugee agency in Kiev, Alexandra Makovskaya, told the BBC Mr Razvozzhayev had come to its office on Friday to request asylum. He vanished when he stepped outside during a break in the discussions, she said.