Sean Quinn Jr jailing 'amply justified' says court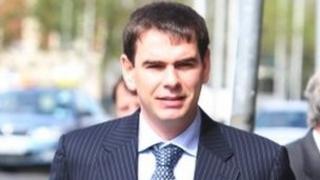 The Supreme Court in Dublin has ruled that the three-month sentence imposed on Sean Quinn Jr for contempt of court was "amply justified".
The Irish Republic's final court of appeal gave its reasons for dismissing an appeal by the son of the bankrupt billionaire, Sean Quinn last week.
He was jailed in July for breaching orders to stop interference with Quinn International Property Group assets.
He was freed from Dublin's Mountjoy Prison last Friday.
In July, a High Court judge ruled that Mr Quinn Jr, along with his father and cousin Peter Darragh Quinn, were in contempt for putting millions of pounds worth of international property beyond the former Anglo Irish Bank's reach.
The Anglo Irish bank was bailed out by Irish taxpayers and is now controlled by the Irish Bank Resolution Corporation (IBRC).
Sean Quinn Jr and Peter Darragh Quinn were given an indefinite jail sentence, but initially for three months, or until the contempt was purged and the family start co-operating with the IBRC.
Peter Darragh Quinn avoided prison by not being in court and remaining in Northern Ireland.
'Far beyond'
Sean Quinn Sr was spared a jail sentence to allow him to co-operate with the IBRC.
The Supreme Court said that it had no issue with the High Court's finding that Sean Quinn Jr breached a court order by facilitating a $500,000 payment to a businesswoman in Ukraine or the three-month sentence imposed.
However, it criticised IBRC, for the procedures it used in in pursuing coercive orders against Sean Quinn Jr that "went far beyond" a single contempt finding.
In his dissenting judgement, Mr Justice Adrian Hardiman said he would have allowed the entire appeal by Mr Quinn Jr.
Mr Justice Hardiman found the proceedings in the High Court were "a summary criminal trial" and the case against him was "entirely circumstantial".
He and his father are due back before the High Court next Thursday.