Silvio Berlusconi: 'No plans to stand in 2013'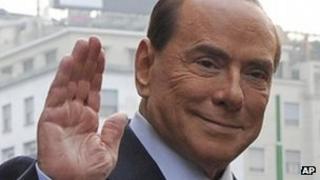 Italy's former Prime Minister Silvio Berlusconi has said he has no intention of standing for office at next year's election.
Mr Berlusconi, on trial over charges of abuse of power, said he would offer guidance from the sidelines.
Mr Berlusconi was forced to resign last November due to his handling of the country's financial crisis.
His statement was both welcomed and doubted by senior figures across Italy's political spectrum.
"For the love of Italy one can do mad and wise things. Eighteen years ago I entered the field, a mad move that was not without reason; now, I prefer to take a step back, for the very same reasons of love that motivated me back then," he said in a statement on his website.
"I won't run for premier again," he explained, adding that he now saw his role as "giving advice, experience, speaking and judging without intruding".
Mr Berlusconi's political future had been the subject of speculation for several months.
The 76-year-old had hinted earlier this month that he might not stand if withdrawing his candidacy could help centrist and centre-right parties come together to form a "moderate" bloc.
Maurizio Sacconi, a former minister in Mr Berlusconi's cabinet, called the move "courageous and generous", saying it would help do just that.
But others were less convinced.
"For now, that is just one of the many Berlusconi announcements which Italians have got used to," Italo Bocchino, a former Berlusconi ally whose party defected from the movement in a bitter split said according to AP.
"Soon, we'll see if it is something concrete, or merely a propaganda revelation."