Ukraine President Kuchma's ex-bodyguard held in Kiev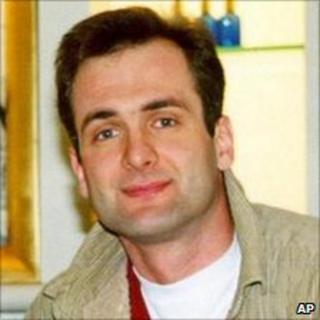 A former bodyguard of the ex-Ukrainian President Leonid Kuchma has been arrested.
Mykola Melnychenko was detained at Kiev airport after arriving from New York.
Mr Melnychenko claimed to have secretly recorded conversations implicating his boss in the notorious murder of journalist Georgiy Gongadze more than 10 years ago.
He has been wanted by the Ukrainian authorities on charges of revealing state secrets since September 2011.
Mr Melnychenko says he also has recordings incriminating other top figures in Ukraine. His return comes just days before parliamentary elections in the country.
Gongadze, a critic of Mr Kuchma, was abducted in September 2000 and his headless body was found months later in a forest near the capital.
The Gongadze affair sparked massive street protests against Mr Kuchma's government.
Kuchma cleared
Gongadze - who was the founder of the Ukrainska Pravda (Ukrainian Truth) website - had exposed high-level corruption and was an outspoken critic of Mr Kuchma.
Last year, a Ukrainian court cleared the former president, who served between 1994-2005, of involvement in the case.
He had been accused of giving illegal orders to the interior ministry which led to the killing.
In the early 2000s, the anti-Kuchma opposition claimed it had the proof that the former leader was involved in Gongadze's murder, pointing to audio tapes secretly recorded in Mr Kuchma's office by one of his bodyguards.
The tapes contain a voice resembling that of Mr Kuchma and suggesting that Gongadze should be "kidnapped by Chechens".
In 2009, Ukrainian officials arrested former interior ministry official Olexiy Pukach, who later confessed to personally strangling Mr Gongadze and then beheading him with an axe. Three other officials are serving jail terms for their part in the killing.
Prosecutors earlier said that former Interior Minister Yuri Kravchenko, now dead, ordered Mr Gongadze's killing.
Mr Kravchenko is said to have committed suicide in 2005 - his body was found with two gunshot wounds to the head.