Energy bill scheme in Belgium could help UK consumers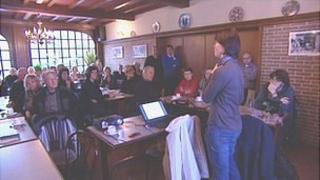 Many households across the UK could substantially reduce their energy bills if a scheme running in Belgium and the Netherlands successfully catches on.
Consumer groups and campaigners in Britain believe that "collective switching" could result in savings for most homes that take part.
If the experience of Lien Cappelle is anything to go by, then collective switching works - and works extremely well.
Just under a year ago, the mother of two switched energy supplier. The last bill from the previous company was just over 400 euros (£324; $518) a month. Her new monthly amount is 78 euros.
"I was very surprised - I didn't expect it to be so much," she says, with a broad grin on her face as her two-year-old son, Artur, plays quietly in the living room of their family home.
"It makes me very angry - the old company wanted me to pay far too much, and that's not fair."
To find out how she cut her bill by three-quarters you can just take a peek into one local cafe on a Friday morning in the Flemish region of Belgium.
It is packed. Figures from a projector light up the wall. Sums are being done. Many of the people are signing up for what they hope will be cheaper energy, thanks to a "collective switch".
'Stronger Together'
It is a simple idea. Get enough households to band together. Ask the energy companies for the best deal they can offer the group as a whole. And move, en masse, to the one provider with the lowest price.
In Belgium and the Netherlands, the system more often than not is organised by the local council, or a community group, with help from a third-party company that specialises in energy negotiations.
The local group organising this collective switch is Samen Sterker. It translates as "Stronger Together" and its spokeswoman is Benedikte Van Eeghem.
"If you go to a supplier and say: 'I want a decent price', they're going to say: 'Well, you have a decent price, I'm not go to change it for you only.'
"If you do this with 10,000 families, that's a different situation. That's 10,000 people who are prepared to switch to a new supplier, which means that these suppliers offer a decent price in order to get them as new clients."
For just over three years now, collective switching has been growing in popularity in Belgium and the Netherlands, where it has been pioneered.
Most of the hundreds of thousands of consumers who have benefited have not managed the astonishing reduction that Lien Cappelle did. On average however, each household has saved some 200-250 euros a year.
And there are those who believe the same could be achieved in Britain.
Earlier this year the consumer organisation Which? organised the first collective switch in the UK. Almost 40,000 people took part, with average savings of £223 a year.
A pilot scheme is running in Cornwall, and South Lakeland District Council in Cumbria is finalising the first local authority project in the UK. Other local councils are expected to follow suit soon.
Simpler method
The UK consumer champion Consumer Focus is pushing it too. Its Director of Energy is Audrey Gallacher.
"It's an easy way for people to engage in the energy market. You have a trusted third party who's actually doing all the leg work and making it more simple. [They] go out and carry out an auction and hopefully get the best possible price for the consumers involved."
Not everyone is so sure. The energy company that won the Which? competition, Co-operative Energy, lists a number of concerns on its website. The main fear, it says, is that "collective switching schemes… can be unfair to loyal customers. In some energy suppliers, loyal customers end up subsidising eye-catching tariffs created to tempt new customers."
There is also a fear that it is the young and more savvy who will get involved, leaving the elderly and those who can ill afford higher bills paying steeper tariffs.
The energy regulator in Flemish Belgium, VREG, says that after some initial teething problems the system is working well.
"It's bringing down prices and giving better service to the customers. There is pressure on the companies both to be competitive and to give good service - otherwise the customers leave quite rapidly," says Dirk Van Evercooren from VREG.
He also says it is helping to free up the energy market, bringing new providers in who are challenging the dominance of the two big Belgian energy firms.
Consumer Focus's Audrey Gallacher believes collective switching can provide a good deal across the board.
"What collective switching will do is not necessarily get you the absolute cheapest deal in the market, but get a fair price for everybody - get a better deal for the people that have never switched before."
"Lots of people don't want to switch because it's too complicated and they're frightened. This takes that all away. We think it's a positive thing all round."
As does Lien Cappelle, back in her home in Bruges, now with an extra 300 euros in her pocket each month.
"We can buy other things with the money we saved. We're very happy we made the switch."