Russia's lower house votes to broaden high treason laws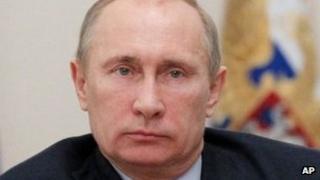 Russia's parliament has voted to widen the definition of high treason in a move critics say is a further attempt to stifle dissent in the country.
Under the proposed new law, high treason and espionage will include supporting "those seeking to damage Russia's security".
Those illegally obtaining secret state information could face an extended prison sentence.
The bill is expected to be swiftly passed by parliament's upper house.
The legislation, which was voted through the Duma 375 votes to two, will then need to be signed into law by President Vladimir Putin.
'Arbitrary interpretation'
Commentators noted that the bill was originally conceived under Mr Putin's previous presidency, but was not pushed through by President Dmitry Medvedev.
"The current Duma vote can be seen as a symbol of the restoration of Putin's power" said the centrist daily Nezavisimaya Gazeta.
Current law describes high treason as espionage or other assistance to a foreign state damaging Russia's external security.
The new bill expands that definition to include moves against Russia's "constitutional order, sovereignty and territorial and state integrity".
In addition, the proposal adds multinational organisations to a list of groups that could benefit from state secrets.
Human rights campaigners have said that this could mean that sharing information with international organisations such as Amnesty International or even lodging an appeal with the European Court of Human Rights could become a criminal act.
The law "places a Damocles sword above virtually every citizen who talks to a foreigner for work, or even as part of a harmless day-to-day meeting," said Konstantin Rivkin, a lawyer, quoted by gazeta.ru.
Alexander Cherkasov, an activist at the rights group Memorial, said the law had been designed for "arbitrary interpretation".
"The adoption of this law is a continuation of the present feverishly prohibitive legislative trend," said Ella Pamfilova, former head of the Presidential Human Rights Council, in gazeta.ru.
Last month, the government ordered USAID to halt its activities in the country, accusing the US government aid agency of attempting to influence domestic politics.
USAID had funded several Russian non-governmental organisations, including those engaged in election monitoring.