Polish police recover bodies stolen with van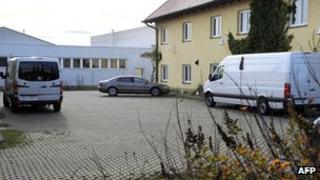 Polish police say they have recovered 12 bodies that went missing near Berlin, Germany, after the van that was carrying their coffins was stolen last week on its way to a crematorium.
The 12 coffins were recovered in a forest in central Poland.
Police said officers had found the coffins in the middle of a forest south-west of the city of Konin.
The coffins have been taken to a forensic laboratory in Poznan, western Poland, where they will be examined.
They will then be returned to Germany.
The discovery was made as part of an investigation into the theft last week of three vans in separate incidents near Berlin, which is about 70km (43 miles) from the Polish border, says the BBC's Adam Easton in Warsaw.
Police believe the thieves were unaware that one of the vans was carrying the coffins and dumped them after they had made the discovery.
The van itself was found on Monday 40km from the forest.
Three men have been arrested in the investigation and two more are still being sought, police said.