Message in a bottle placed in Quebec river found by Waterford boy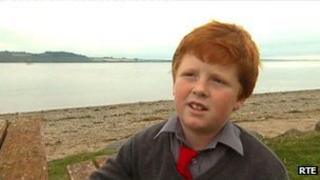 A message in a bottle that was placed into the St Lawrence's river in Quebec, Canada, eight years ago, has been found by a 10-year-old boy in Waterford in the Irish Republic.
Oisín Millea discovered the plastic bottle on the beach in his home village of Passage East after it had made a 4,000km journey.
The Irish Times reports that inside was a note in French from two girls, Charlene and Claudia, with an email address that is no longer in use.
In the note, the girls write that they were from Montreal but were on holiday in the Grande Vallee area of Quebec when they placed the message in the bottle.
It travelled out of the estuary, past Newfoundland, across the Atlantic Ocean, and up the Suir estuary before arriving in Passage East.
Oisin said the note inside the bottle was dry when he opened it and described the experience as "amazing".
"We haven't been able to find out who the girls are as we don't have their second names but maybe somebody out there will know," he said.
"It'd be great to tell them we found their message eight years after."
It is understood Passage East national school has connections with schools in Newfoundland and aims to find a way of contacting the girls, who would now be adults.