Polish president exhumed over fears of misidentication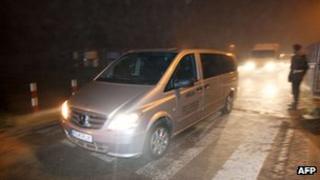 The body of the former Polish president, Ryszard Kaczorowski, has been exhumed to determine whether he was mistakenly buried in the wrong grave.
Mr Kaczorowski died along with 95 others, including then-President Lech Kaczynski, in a plane crash in Russia two years ago.
His remains were taken from a church in Warsaw and are undergoing DNA tests.
Tests last month confirmed that two other victims had been misidentified.
One of those who subsequently had to be reburied was the renowned Solidarity activist, Anna Walentynowicz.
Mr Kaczorowski died in April 2010 when the Polish presidential jet crashed as it tried to land in fog at Smolensk airport in western Russia.
The plane was carrying President Kaczynski and other dignitaries to a ceremony to mark the 70th anniversary of the Katyn massacre, when Soviets forces killed thousands of Polish prisoners of war.
More exhumations
Autopsies of the victims of the crash were carried out in Moscow by Russian doctors.
The exhumations began after Polish prosecutors received documents from Moscow raising the suspicion that some of the victims may have been misidentified.
Prosecutors have said that at least two more victims will be exhumed before the end of the year.