France urged to tackle bribery of foreign officials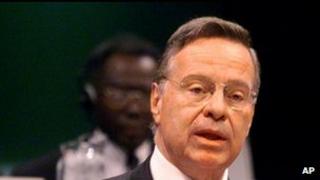 France must do more to tackle the bribery of foreign public officials by French companies, a report by a club of leading industrial countries says.
The Organisation for Economic Cooperation and Development called on Paris to tighten laws and boost fines.
In the 12 years since an OECD anti-bribery pact came into force, France has secured only five convictions.
The report said France interpreted the convention too narrowly, allowing cases to slip through the cracks.
The OECD noted that the successful prosecutions had been for relatively minor offences and said it was "seriously concerned that despite the very significant role of French companies in the international economy, only 33 foreign bribery proceedings had been initiated."
Increase fines
The OECD report found the French authorities too often did not pursue foreign bribery cases on the grounds that the offences took place outside French jurisdiction.
It recommended that France ensure companies cannot avoid criminal liability, increase the maximum fines and encourage French officials to report suspected bribery cases.
Additionally it wanted France to continue judicial reforms to guarantee greater independence for prosecutors, to devote more funds to tackling bribery, and to ensure secrecy surrounding defence deals did not impede investigations.
But the report acknowledged that some reforms had already been introduced, particularly with regard to protection of whistle-blowers.
The OECD report follows a major scandal two years ago involving the French-based communications company, Alcatel.
The company agreed to pay $137m to settle a foreign bribery investigation spearheaded by the US Justice Department over alleged illegal payments made to Costa Rica, Honduras, Taiwan and Malaysia.
Former Alcatel officials paid an estimated $9.6m in bribes to Costa Rican officials, including former President Miguel Angel Rodriguez. He has been sentenced to five years in prison.
The OECD's bribery convention has been signed by 39 countries, including most of the industrialised world, though not China and India.