Finnish PM Jyrki Katainen faced man with knife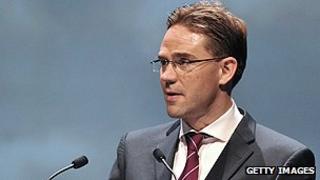 Security guards have stopped a man with a knife who confronted the Finnish PM, officials say.
The man approached PM Jyrki Katainen as he campaigned for local elections in the south-western city of Turku.
According to police earlier reports, which said the man had tried to attack Mr Katainen, were inaccurate.
Mr Katainen, 41, was unhurt and later resumed greeting voters ahead of Sunday's polls, his spokesman Kari Mokko said.
The spokesman could give no further details on the man who had attempted to reach the prime minister.
A Finnish newspaper photographer who saw the episode said the man fell to his knees with a knife in front of the prime minister, but did not attack him.
"He was trying to get Katainen's attention," the photographer, Robert Seger, was quoted as saying by Associated Press news agency.
The man, who was reportedly behaving in "a confused manner", was taken into police custody, Finnish news agency STT reported.
Mr Katainen's conservative National Coalition Party emerged as the largest group in April 2011 elections.
The former teacher formed a grand coalition with six other parties from the left and centre, including the Social Democrats.
Mr Katainen entered parliament in 1999 and became party leader in 2004, serving as deputy prime minister and finance minister in the Centre-Party-led coalition governments between 2007 and 2011.
Correction, 14 October 2012: We originally reported, based on initial information, that the man may have tried to attack Mr Katainen. It later became clear that this was not the case.