Russian anti-Putin activist 'admits riot plot'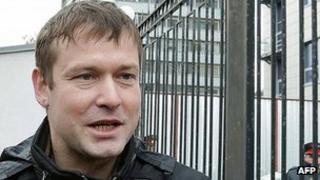 Russian investigators say a detained anti-Kremlin activist has admitted trying to foment riots with funding from a Georgian MP.
Leonid Razvozzhayev disappeared in the Ukrainian capital Kiev on Friday, after meeting officials at the UN refugee agency, the UNHCR, a UN official said.
Fellow opposition activists say he was kidnapped by Russian agents.
Russia's Investigative Committee (SK) says Mr Razvozzhayev turned himself in and confessed to Russian police.
He is an aide to Russian opposition MP Ilya Ponomarev and an ally of leftist opposition activists Sergei Udaltsov and Konstantin Lebedev.
Last week the SK - a Russian police body modelled on the American FBI - confined Mr Udaltsov to Moscow after questioning him about an alleged plot to seize power in Russia.
A recent documentary on Russia's NTV channel, which is seen as close to the Kremlin, showed what it said was footage of Mr Udaltsov meeting officials from Georgia to discuss mounting a coup in Russia.
The SK said it had begun an investigation into Mr Udaltsov, Mr Razvozzhayev, Mr Lebedev and others on the basis of the allegations made in the documentary, Anatomy Of A Protest II.
Police allege 'riot plot'
In its latest statement, the SK says an arrest warrant was issued for Mr Razvozzhayev on 18 October.
On Sunday he turned himself in to the SK and said he wanted to make a confession, the statement added. He will soon be charged with attempting to foment riots, it said.
"In it he gave details of the preparations by him, Sergei Udaltsov, Konstantin Lebedev and other individuals for organising mass unrest in the Russian Federation, and also about those named individuals' involvement in the public disorder that took place on 6 May 2012, on Bolotnaya Square in Moscow," the SK statement said.
"According to Razvozzhayev's confession, [Georgian MP] Givi Targamadze financed this unrest."
A spokeswoman at the UNHCR in Kiev, Alexandra Makovskaya, told the BBC that Mr Razvozzhayev had come to the UNHCR's office on Friday to request asylum. He had stepped outside during a break in the discussions and disappeared, she said.
A video published on the LifeNews.ru website showed a man - apparently Mr Razvozzhayev - being escorted by police and shouting to reporters: "Tell everyone that they tortured me. For two days. They smuggled me in from Ukraine."