Berlusconi sex trial: 'No intimate ties' with Ruby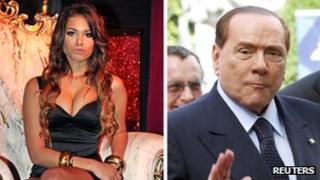 Former Italian PM Silvio Berlusconi has denied any "intimate ties" with an underage prostitute he is charged with.
Speaking at his trial in Milan, Mr Berlusconi said there were never scenes "of a sexual nature" at his home.
He said the expression bunga-bunga to refer to alleged sex parties came from a joke he had used from time to time.
Referring to the charge of abusing his powers to get the girl, nicknamed Ruby, released from police custody, he denied ever having pressured Milan police.
The girl, Moroccan nightclub dancer Karima El-Mahroug, had been arrested for suspected theft.
Mr Berlusconi, now 76, is accused of paying to have sex with Ms El-Mahroug - who is widely known as Ruby Rubacuori ("heart-stealer") - in 2010 when she was 17.
Diplomatic call
In a statement before judges in Milan, he said she was 24 "as she herself said".
Prosecutors maintain that the former prime minister had sex with Ms El-Mahroug on 13 occasions.
"I have never had any intimate relations with her," Mr Berlusconi said.
Ms El-Mahroug has always denied having sex with the prime minister when she was 17 - or being a prostitute.
"I can exclude with absolute certainty that there were ever any scenes of a sexual nature" at his Milan villa, the Italian media mogul and politician said.
Correspondents have promised wire-tap evidence expected to reveal how women were procured for parties at the villa.
The list of 78 witnesses named by Mr Berlusconi includes Real Madrid footballer Cristiano Ronaldo, Hollywood star George Clooney and his girlfriend, and the Italian model and TV star Elisabetta Canalis.
All are said to have been guests at one of Mr Berlusconi's parties.
The former leader told the court on Wednesday that he had hosted dinners where everybody ate together - with him at the centre monopolising the conversation. There had also been dancing at his children's discotheque.
Mr Berlusconi, who resigned over Italy's economic crisis last November, is said to have urged police officers to release Ruby, allegedly telling them she was a granddaughter of former Egyptian President Hosni Mubarak.
Referring to the abuse-of-power charge, he said: "I have never exercised pressure on officials of the Milan police."
"The girl said she was Egyptian, coming from an important family related to Mubarak," he said.
Mr Berlusconi added that he had believed her and had telephoned police because he did not want to provoke "a diplomatic incident", but that the call had been limited to "seeking information".
Mr Berlusconi faces up to 15 years in jail if found guilty.