Syrian opponents consider Brahimi ceasefire proposal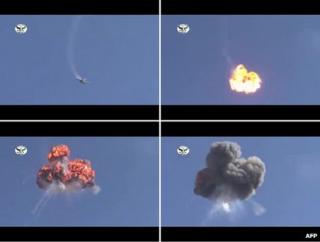 The Syrian government has indicated that it is interested in exploring a temporary ceasefire proposed by the UN and Arab League envoy, Lakhdar Brahimi.
Spokesman Jihad al-Makdisi told the BBC that the government would listen to any initiative to end the crisis, but that both sides would need to be involved.
The opposition meanwhile said they would match any government ceasefire.
Dramatic video, said to have been shot in Syria, has emerged of a helicopter exploding in mid-air.
The authenticity of the footage could not be independently confirmed.
Syrian rebels told al-Jazeera TV that they had downed a Syrian army helicopter in the north-western province of Idlib.
Meanwhile, Turkey's armed forces returned fire across the border into Syria after a Syrian mortar shell landed just inside Turkey's Hatay province earlier on Wednesday.
No-one was hurt by the Syrian shell, said Turkish officials of the latest in a spate of cross-border incidents that have heightened tensions between the neighbours and prompted each to ban the other's planes from their airspace.
'Microscopic step'
Mr Brahimi wants a truce over the Islamic holiday of Eid al-Adha, which starts on 25 October, to "allow a political process to develop".
In an interview with the BBC on Tuesday evening, Mr Makdisi said the government in Damascus would listen to any initiative Mr Brahimi might have to "stabilise the situation in Syria and end the crisis, whether on the occasion of Eid al-Adha, independence day or any other anniversary".
"If we want the initiative to succeed, it is not enough for only the Syrian [government] side to be bound by it," he said.
"But at the same time, I would say that calming down the situation is in the interest of the Syrian government because we support a political solution and dialogue under this umbrella without preconditions.
"The purpose of [a ceasefire] is not calm itself but transition to a political dialogue between Syrians themselves."
After holding talks with Lebanese Prime Minster Najib Mikati in Beirut on Wednesday morning, Mr Brahimi called on Syrian President Bashar al-Assad to take the lead in implementing the ceasefire.
He revealed that the Syrian opposition had told him that any ceasefire observed by government forces would be reciprocated.
"We heard from everyone we met in the opposition, and everyone [else] we met that, if the government stops using violence, 'We will respond to this directly'," he said.
"The Syrian people are burying hundreds of people each day, so if they bury fewer people during the days of the holiday, this could be the start of Syria's return from the dangerous situation that it has slipped and is continuing to slip toward."
Mr Brahimi also warned neighbouring countries and regional powers who have been supporting the Syrian rebels: "It is not possible that this crisis will stay inside Syrian borders forever.
"Either it has to be taken care of or it will spread and spill over and consume everything. A truce for Eid al-Adha would be a microscopic step on the road to solving the Syria crisis."
A ceasefire negotiated by his predecessor, Kofi Annan, in April broke down within days and was followed by an escalation in the conflict.
Human rights and opposition activists say more than 30,000 people have been killed since anti-government protests erupted in March 2011.