Syria conflict: UN's Pinheiro gives jihadist warning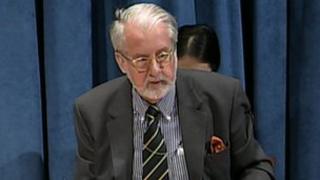 A UN commission on human rights abuses in Syria has warned of the increasing risk of foreign Islamist militants radicalising the conflict.
Lead investigator Paulo Sergio Pinheiro said the presence of hundreds of "radical Islamists or jihadists" was particularly dangerous.
There have been increasing reports of foreign fighters entering Syria.
A man is due in court in London on Wednesday accused of kidnapping a British photographer in Syria in July.
Shajul Islam, 26, faces charges of imprisoning John Cantlie and Dutch journalist Jeroen Oerlemans against their will for nine days.
He was detained after arriving at Heathrow Airport last week on a flight from Egypt.
Truce bid
Presenting the UN commission's first report for a month, Mr Pinheiro pointed to "a dramatic rise in sectarian tensions" and singled out the role of foreign militants.
He said that while they were not a powerful army invading Syria "they are not combating for democracy and freedoms but they are combating for their own agendas".
Syria has for some time blamed much of the violence on foreign-backed "terrorist groups" and UN envoy Lakhdar Brahimi said last month that Damascus estimated that the number of foreign fighters in the country was into the thousands.
Mr Brahimi has been visiting a series of Middle Eastern capitals, putting forward a proposal for a ceasefire to mark the Muslim holiday of Eid al-Adha, which starts at the end of the month.
Syria's foreign ministry has shown some interest in the plan but has said it requires the commitment of all sides if it is to succeed.
Exiled opposition leader Abdel Basset Sayda told AFP news agency that rebel fighters would halt hostilities when government forces did so.
Meanwhile, Pope Benedict XVI is to send a delegation to Damascus in the next few days, to show solidarity with the Syrian people.
Vatican Secretary of State Cardinal Tarcisio Bertone said church leaders could not be "simple spectators to the tragedy taking place in Syria". Expected to take part in the delegation is New York Cardinal Timothy Dolan.
The bloodshed continued in several areas of Syria on Tuesday, reports say.
Unverified footage posted by anti-government activists indicated that warplanes had attacked rebel-held areas in Aleppo and Idlib provinces.
The UK-based activist group, the Syrian Observatory for Human Rights, which says its reports are impartial, says government jets carried out the most intense raids on the Marat al-Numan area since rebels took it over a few days ago.
The city is a key point on the road from Aleppo to the south.